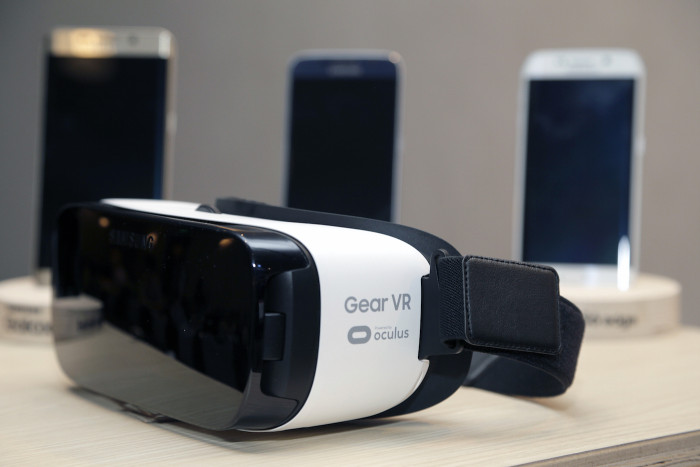 The first consumer-ready virtual reality headset has gone on sale in the UK. It's called the Gear VR, and it's a joint project between Samsung (leading smartphone maker) and Oculus (leading VR maker). More importantly, it's also good. The headset has already attracted critical acclaim from a range of tech publications, making it one of the best introductions for VR for the wider public. If you wanted to show your boyfriend, dad or grandma what virtual reality is all about, now's your chance.
Engadget published a breathless review late last month with a 96% rating, a rarity for the site and a hopeful indicator for the future of VR in the mainstream. If you own a compatible Samsung smartphone, then this could be the ultimate intro to virtual reality for you, your mom or your grandma. Other early reviews have been widely positive too, with 4/5 stars from CNET, 8/10 from Digital Trends and a positive (if unscored) review from Wired.
The Gear VR promises untethered virtual reality at a fairly low cost, at the cost of battery life and compatibility. The Gear VR uses a Samsung smartphone — a Galaxy S6, S6 Edge, Note 5 or S6 Edge Plus — as its base, adding in lenses, motion sensors and the straps that keep it all together and on your face. There are no trailing wires to an attendant PC or console as there are with most other VR projects at the moment, so you could easily use it while sitting on a park bench or stuffed into a tiny airplane seat. That also means you can't move around and have that recognised in the app, so this is a seated-only experience for now.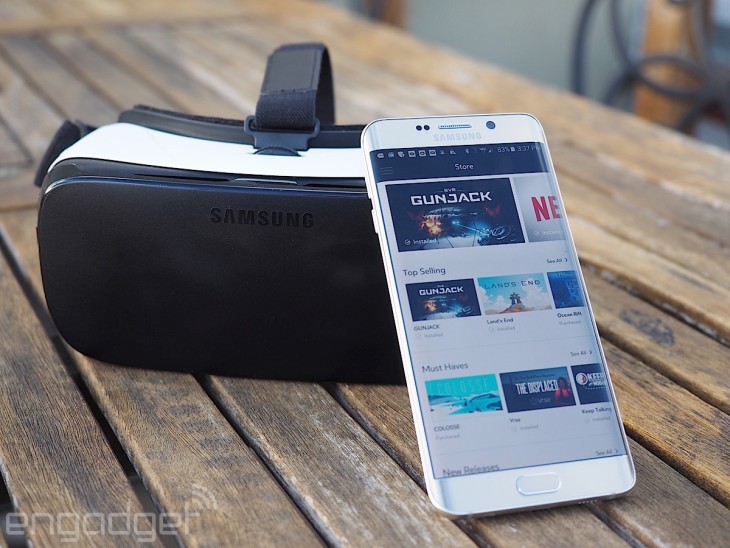 Unlike simpler (and much cheaper) VR headsets like Google Cardboard, the Gear VR has a trio of sensors — accelerometer, gyroscope, proximity — designed to reduce latency. Combined with some smart display tech from Samsung, and nausea is much less of a problem here than with other VR headsets that we've seen. Many reviews report using the headset for 30 minutes all the way up to a couple of hours without break, and that's a great indication that one of VR's biggest bugbears is slowly being eliminated.
Surprisingly, the Gear VR is neither heavy or bulky. Its size and weight have both shrunk dramatically since the early adopter edition, and now is one of the most comfortable VR headsets to wear. Even with a smartphone integrated inside, it still feels balanced and hassle-free. It's also compatible with spectacles, so you can keep them on while playing (or adjust the focus to match your eyesight if it's not too bad and you'd prefer a little extra comfort).
So what are the downsides? Well, a smartphone-based solution means that graphics quality isn't great, and limits your usage to short periods of three or four hours — it turns out that broadcasting a live 3D scene can be pretty exhausting for your phone's battery. Control options are also a little more limited, with a fairly rudimentary touchpad and buttons on the frame, plus whatever Bluetooth game controllers you can find (none are included with the headset).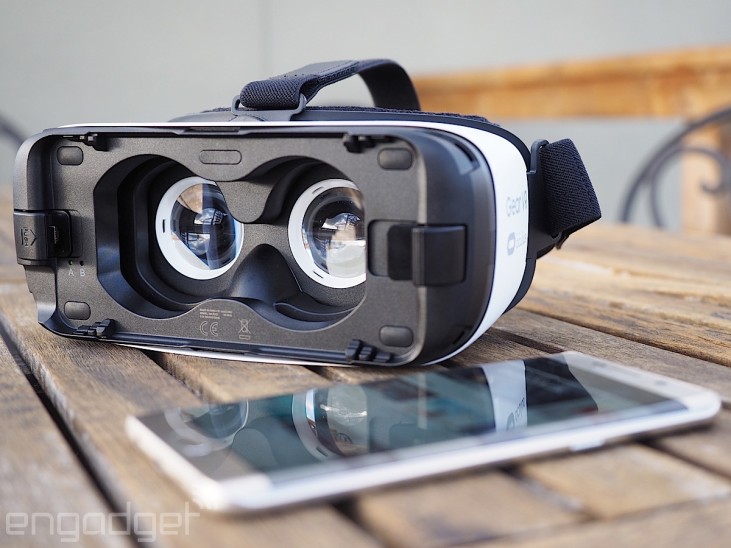 There are a pair of Oculus-branded apps included in the package: Oculus Home to get started and the Oculus Store to get more apps. There are just over 100 apps and games to try out, including highly replayable options like web browsing and video watching on Netflix. There are also some games from big names, like EVE: Gunjack and Land's End. Samsung promise that another 40 apps are being developed and should be released soon.
Overall, the Gear VR seems like just what the nascent VR industry needs: a convincing, streamlined product that becomes the baseline for the VR conversation in the future, rather than the janky 90s imaginings that only succeeded in attracting mainstream ridicule. If you've got a compatible Samsung smartphone, then for £80 it seems a no-brainer.
The virtual reality headset is only available from Samsung's official site at the moment where it's currently out of stock, but we're looking into getting stock here at Mobile Fun as well. We'll keep you posted on our efforts!
Thanks for checking out the article and let us know what you think of the headset in the comments below. Could you see yourself picking up as a Christmas gift for a recent Galaxy owner?
Image credits: AP Photo/Nick Ut (header), Engadget (additional images)