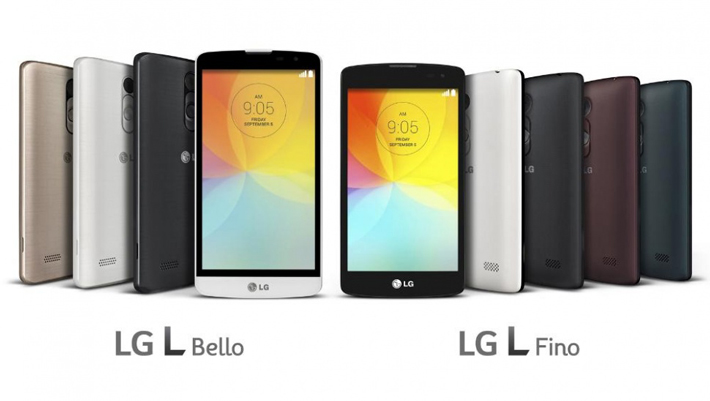 This week LG added a couple new mid-range phones to their arsenal, the L Fino and the L Bello. The phones, which are set to be announced formally at IFA 2014 in Berlin, are intended as "first smartphones" for teenagers or those in emerging markets. They include some features which have proved popular on the LG G3, such as rear-mounted buttons and minimal front bezels. Some software elements have also made it over, most notably the "Knock Code" feature that allows you to unlock the phone by tapping your pattern on the screen, forgoing the need to tap the rear-mounted buttons to wake the phone.
In terms of specifications, both phones are pretty reasonable. The Fino is the smaller and less powerful of the two, with a 4.5-inch 480×800 display, 1.2GHz quad-core processor and 4 GB of internal storage. The Bello is marginally better equipped, with a 5-inch 480×854 screen, 1.3GHz quad-core processor and 8 GB of internal storage. Both phones share 1 GB of RAM, 8-megapixel rear-facing cameras, 3G connectivity and Android 4.4.2 on board.
The phones look to be well-supported with accessories as well. QuickCircle cases, like those for the LG G3, will be available. If you're not familiar with them, these are flip cases with a circular window cut into the front cover. The window allows you to touch and control the screen beneath, as well as let you read status and notifications without needing to open the cover. You can see the time, answer or reject calls, and even run QuickCircle-specific games in the window. We'll have more details on both LG L Fino and LG L Bello accessories and their availability in the days to come.
What do you think of the LG L Fino and L Bello? Let us know in the comments below. You can also reach us on Twitter @mobilefun. Thanks for checking out the article and have a good weekend!