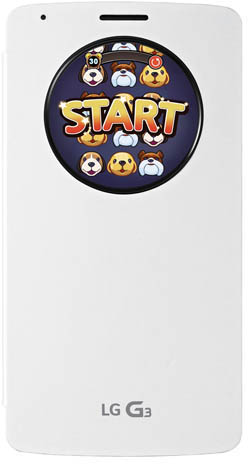 Today LG unveiled the first games meant to be played entirely within the circular confines of their QuickCircle cases for the LG G3. The idea is that you don't even need to unlock your phone or open the cover to get started; you can just quickly pull up a game to pass the time.
The very first game is Puppy Pop, a simplistic puzzle game that has you drawing line through lines of identical puppies to score points. It's more a proof of concept than anything else, but it's a cute idea and may yet take off – although developing games for a small group of cases for a specific phone has got to be an incredibly niche market!
We put our heads together here at Mobile Fun HQ and came up with a list of games we'd and apps like to see on these QuickCircle cases. Take a look, then come up with your own suggestions!
QuickCircle Case game ideas

QuickCircle Case app ideas

Loyalty cards (Nectar, Starbucks)
Live sports scores
Oyster card
Flash light
TV + HiFi remote control
Those are our ideas, now let's hear yours! Talk to us in the comments below or reach us on Twitter @mobilefun!