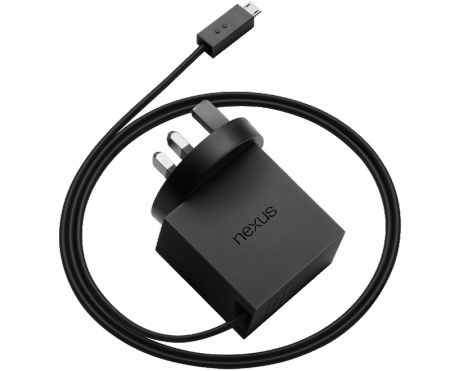 Google has become increasingly good at producing hardware over the past couple of years, and they've even applied that expertise to accessories. Case in point is their latest creation, the Official Nexus Micro USB Mains Charger, which was revealed this week. The charger features prominent Nexus branding, with a boxy design that is only slightly hamstrung by the inevitably massive UK plug at the end. The colour matches earlier Google accessories, with a matte black shade that looks good when new and won't get as dirty as charging cables of lighter shades.
The charger is quite beautiful, and also compares favourably to previous Nexus chargers when it comes to the technical side of things. The new charger provides a 1.8A output, which should charge the Nexus 4, 5 and 7 at faster speeds than the 1.2A to 1.35A chargers shipped with these devices originally. That means less time with your phone on charge, and longer battery life if you only have a short period of time to charge your phone in the morning.
The charging rate means that the Nexus Micro USB Charger should be a good fit for all Nexus devices, including the Nexus 4, Nexus 5, Nexus 7 and Nexus 10. Older Nexus phones, like the Nexus One or Galaxy Nexus, may not see improvements in charging times.
The charger feels quite durable as well, with a reinforced tip and connector to the main adapter. The small size and rectangular shape should also make it quite easy to use on the go, particularly if you already have a Nexus USB cable to use at home.
The Official Nexus Micro USB Mains Charger will cost £9.99, making it a relatively inexpensive upgrade for your Nexus smartphone or tablet. It's coming soon to Mobile Fun, and is already available for pre-order via the official Nexus Micro USB Charger product page here.
Thanks for checking out the article on the ultimate Nexus 5 charger. Be sure to let us know what you think of the newly designed official Nexus charger, and have a great weekend ahead!