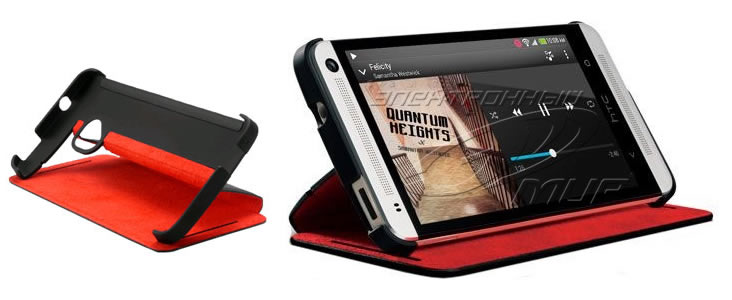 The HTC One Dual SIM is a brilliant phone for anyone that juggles two phone lines, but many cases for the single SIM HTC One don't fit the dual SIM model. Today, we're looking to redress that unfortunate situation with the release of the official HTC One Dual SIM Flip Case.
The Dual SIM Flip Case is an impressive creation, offering a good mix of style, protection and utility.
The case looks great, with a bold red suede interior and a tough matte black polycarbonate casing on the outside. The black and red colours here are a perfect accompaniment to the clean silver colour of the One Dual SIM, making for an eye-catching case.
Of course, a good looking case is no good if it doesn't protect your phone. Thankfully, the Dual SIM Flip Case doesn't disappoint. The polycarbonate bumper protects the phone from impacts and knocks, while the flip cover ensures that the screen remains undamaged. This protection doesn't come at a heavy price either; you'll find that your HTC One remains svelte and light whilst inside the case.
The final piece of the puzzle is utility, and here the Flip Case is no slouch either. The case's flip cover can be redeployed backwards, folding to form a helpful media stand in a landscape orientation. That means you can watch movies in comfort, or use a Bluetooth keyboard or controller to write or play games. This stand is perfect for use on the widest desks and the narrowest train trays, and everything in between too.
The official HTC Flip Case for the One Dual SIM is an impressive accessory, and should provide everything you need in a phone case. For more information on what's provided or to place your pre-order for this hotly anticipated item, visit the HTC One Dual SIM Flip Case product page.
Thanks for checking out the article, and be sure to let us know what you think of it in the comments below. You can also have a look at our full range of HTC One Dual SIM cases.