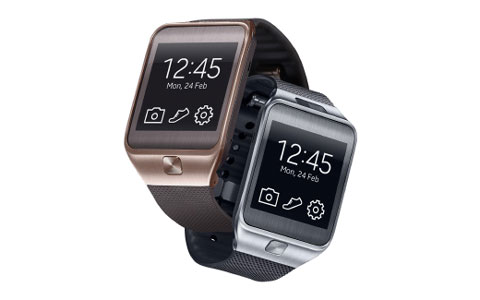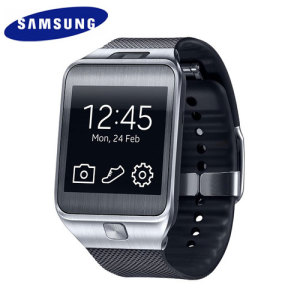 The Samsung Galaxy Gear 2 is here. This new smartwatch is one of the most capable on the market, connecting to your phone over Bluetooth to display notifications and run small apps controlled using the square touch-screen. The second-generation smartwatch from our favourite Korean chaebol is thinner, lighter, more comfortable and has better battery life than its predecessor.
Uniquely for a smartwatch, you can take and place calls directly on the Gear 2 itself, thanks to an integrated microphone and speaker – no more fishing your phone out of your pocket! A camera is also installed into the slim watch, allowing you to take surprisingly decent 2 megapixel photos. The Gear 2 also includes a host of fitness features, including an integrated heart rate monitor and the ability to store songs directly on the Gear 2's internal memory, so you can leave your phone behind when you go to the gym or for a jog.
The Samsung Gear 2 is also impressive in its durability and performance. The new model is IP67 rated for dust and water resistance, allowing it to be used in the pool or in the shower for limited periods without issues. The internals have also been upgraded, with a new Tizen operating system and more powerful processor providing a much more responsive experience swiping between apps.
The new Gear has its camera and speaker in a new position, allowing replacement 22mm watch straps to be installed. That's a godsend for anyone that didn't like the futuristic style of the original Gear, and allows you to change up the look of your watch to suit your style and the occasion. Finally, a home button has been added below the watch face, which allows you to reach the actual time display without needing to swipe 'back' loads of times.
The Gear 2 is an impressive upgrade from Samsung, and should prove even more popular than its predecessor. We'll be stocking the Gear 2 – along with stablemates the Gear 2 Neo and Gear Fit – in the weeks ahead.
For more information, visit the product page linked below. You can also check out our other smartwatches and fitness accessories by following the relevant links.