Samsung announced a line of tablets at CES 2014, and two of them have me really excited: the Note Pro and Tab Pro 12.2″. The tablets offer more screen space than the 10″ standard size, and are packed to the gills with productivity features like multi-window modes and a revised desktop UI. These changes make for a tablet that's closer to a laptop. To further that transition, today we're unveiling the Logitech Pro Keyboard Case.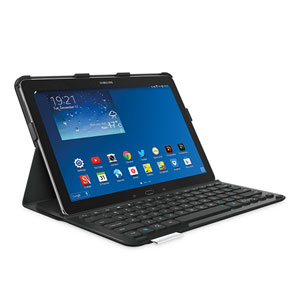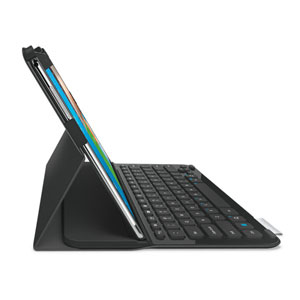 As you'd expect, this case adds a wide and comfortable keyboard to the tablets, allowing to type as easily as you would on a laptop or desktop computer. Whether you're emailing clients, writing memos or preparing a document, you'll find you can write much more quickly and accurately than you can by tapping on glass. The display is also propped up at a convenient angle, allowing you to use the touch-screen easily.
But of course, there are times that you won't want to be typing. Thankfully, the Logitech Pro's slim design allows the keyboard portion to easily be tucked behind the tablet, making for a completely traditional tablet experience. When you're done using your tablet, you can just fold the cover closed and the vulnerable screen will be protected while your tablet is in your bag.
The protection provided by the Logitech Pro belies this case's slim size. You'll get adequate bump protection, excellent scratch protection all-over, and even spill resistance thanks to the unique materials used in the case's construction.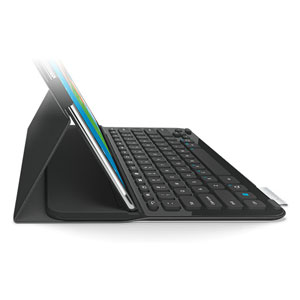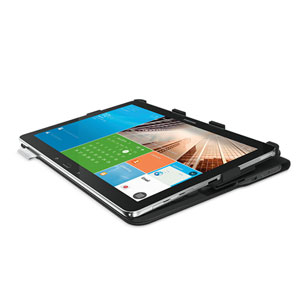 One possible concern with any Bluetooth accessory – like this keyboard – is battery life. Thanks to the advent of Bluetooth 4.0 Low Energy, you'll find that this keyboard will last for ages on a single charge – up to 3 months of use! You can easily charge the keyboard using the included cable if you ever run low, and then you'll be good for another few months.
The Logitech Pro Keyboard Case is the ideal complement to Samsung's new Note Pro and Tab Pro 12.2″ tablets for any working professional. The Logitech Pro is available for pre-order now. For more photos and information, check out the product page linked below. You can also find more accessories via the latter two links: