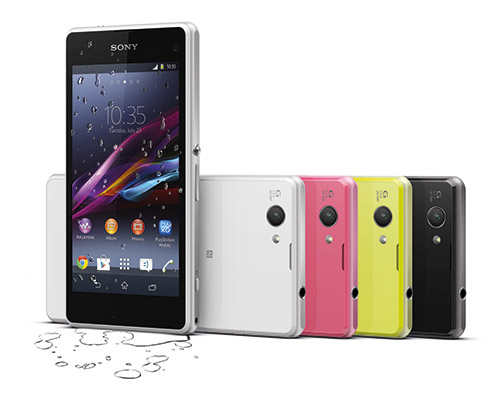 Sony announced the highly anticipated Xperia Z1 Compact at CES this week. The phone offers something that's been demanded by consumers for some time now: a high-end Android smartphone at a reasonable size.
With a screen that's 4.3 inches along the diagonal, the Z1 Compact is much more comfortable to hold than the average 5-inch Android flagship. It's a few millimetres larger in every dimension than the paragon of thin phones, the iPhone 5S, but for a high-end Android smartphone it's a marvel.
And unlike Samsung's bitterly disappointing Galaxy Mini phones, this smartphone is just as powerful as its full-size equivalent. It boasts a quad-core Snapdragon 800 processor, 2 GB of RAM, a 20 megapixel camera and all of the latest communication technologies including LTE, Bluetooth 4 and NFC. There's 16 GB of storage and a microSD card slot that'll allow you to add another 64 GB to the total too. Finally, the Z1 Compact is waterproof and dustproof, just like its bigger brother.
It's an impressive feat, but what are the downsides? Well, one potential one is that you'll only be getting a 720p display this screen size rather than the 1080p that is prevalent at higher screen sizes – but to be honest, you'll still enjoy a pin-sharp screen that eclipses the density of the iPhone 5S and its 'Retina' display. The display is IPS too, meaning it offers better viewing angles and contrast than what we've seen in Sony smartphones before.
Best of all, this diminutive phone won't have a flagship price – it'll be cheaper than the Xperia Z1. Not bad for what looks like Sony's best phone, and what is assuredly the best Android phone at 4.3-inches. The Z1 Compact will be released this quarter, and I for one couldn't be more excited to try it.
New Xperia Z1 Compact cases coming soon

We're going to be carrying a wide range of cases and other Xperia Z1 Compact accessories – and we're excited to announce that the first of these have already been added to our site!
These are three Z1 Compact cases from Case-Mate: the Tough Case, the Tough Naked Case, and the Barely There Case.
The Case-Mate Tough Case is our first example, offering considerable protection against scratches and impacts with a dual-layer design. Here, a shock-absorbing interior cushion is wrapped in a polycarbonate hard shell to provide the best of both worlds. The Tough Case will be available in black only.
Next up is the Case-Mate Tough Naked Case, which offers the same protection as the  Tough Case but is transparent, allowing the tiny monolithic design and bright colours of the Z1 Compact shine through. The Naked will be available in Crystal Clear, Clear/Lime and Clear/Pink.
Finally we have the Barely There Case, which offers the least bulk of the three options. The case uses an impact-resistant flexible Polycore shell to provide good impact resistance despite its slim build. The Barely There will launch with two colour options – clear and black.
To see our latest collection of Z1 Compact covers and cases, visit our website.