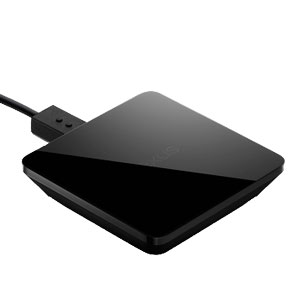 Today we're going to take a look at the Office Nexus Wireless Charging Pad.
As you might expect, this item provides rapid wireless charging for the members of the Nexus family of smartphones and tablets that support Qi wireless charging – at present, this includes the LG-made Nexus 4 and 5 smartphones, as well as the latest Asus-made Nexus 7 tablet (released in 2013). No matter which device you're using, you'll find wireless charging an easy alternative to micro USB wires.
It can be difficult to remember to plug in your Nexus every time it could be charging, but with wireless charging this is quite straightforward – just place it on top of your wireless charger and forget about it. Your Nexus will charge up to its full capacity, then automatically disengage from charging until it hits a low enough level once again. This practice is thought to extend battery longevity and prevents unnecessary heat and power use.
The coolest feature of the Nexus Wireless Charging Pad is its built-in magnets, which allow the Nexus tablets with magnets – the Nexus 7 (2013) tablet and Nexus 5 smartphone – to easily stick to the charging pad, locking in the device at an angle that ensures optimum wireless charging. This keeps your Nexus from sliding around or falling off, and makes placement a (literal) snap.
Of course, as this is an official wireless charging pad produced by LG, you'll find that it matches the style of the Nexus family quite well. It is nondescript but well-proportioned, and will be a nice addition to your desk or bedside table.
For more information on this wireless charger, check out the product page linked below. I'll also throw in a link to the rest of our Qi wireless chargers, which should also work with the Nexus lineup of smartphones and tablets.
Thanks for reading and be sure to let me know what you think of the article!