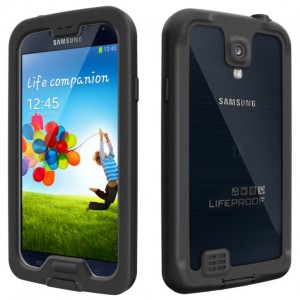 Mobile Fun are happy to announce that the popular line of resist-everything LifeProof cases will soon be available for the Samsung Galaxy S4.
If you haven't heard about LifeProof before or seen their Underground ads, here's a quick primer – these are basically the most protective cases you can find – whether you are battling through the Amazon rainforest or the work day, your case will be protected against all kinds of potential hazards.
The LifeProof is similar to the Otterbox Defender and Case-Mate Tough Case for resisting scratches and impact damage, but beats out these models by providing additional protection elsewhere.That's by providing IP-68 rated water and dust ingress protection, the highest possible rating awarded. You'll be able to immerse your phone in up to 2 metres of water continuously and use your phone in sandy environments without issues.
Two models will be available – the LifeProof Nuud Case and the LifeProof Fre Case. The difference between the two is that the Fre includes a screen protector, while the Nuud goes without – you can choose either a completely accessible naked screen or a more protected option.
Whichever model you choose, you'll still benefit from some seriously impressive protection and a clever design. Both cases are relatively slim given their abilities, and include port cutouts and button covers. Surprisingly, the LifeProof case will also make your Galaxy S4 sound better, thanks to some clever acoustic work that allows the rear of the case to work as a kind of amplifier.
On launch, these LifeProof cases will be the best Galaxy S4 cases on the market for ensuring your phone stays in perfect condition, no matter what happens.
For more details including some photographs of each model, check out the product pages linked below. You'll also see live information on the pricing and availability of each model.
Thanks for checking out the article. If you have any questions or feedback, I'd encourage you to leave in the comments below. Have a good week!