Today we're happy to announce that we are the first retailer to announce a European price for the sim-free Samsung Galaxy S4 with LTE+, also known as the GT-i9506.
Snapdragon 800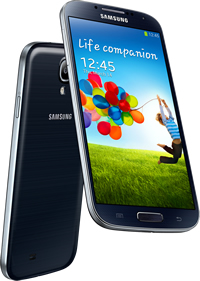 The new Galaxy S4 comes with an upgraded Snapdragon 800 processor, which is quad-core running at a mighty 2.3 GHz. The processor is an absolute beast, and is typically between 20 to 30% faster than the Snapdragon 600 that came in the original Galaxy S4 i9505.
Graphics performance is also much improved, about twice as fast as the Exynos 5 Octa in the GT-i9500 version of the Galaxy S4. The GPU is even capable of running 4K video. Despite the improvement in power, the processor doesn't require more battery life to run.
LTE Advanced
The second big feature is support for LTE Advanced networks, which are currently being built across Europe. These networks support amazing peak speeds – up to 50 Mb/s up and a blistering 150 Mb/s down. While there are no LTE-A networks yet in the UK, you'll be able to use regular LTE networks for now and be prepared for LTE-A in the future.
Elsewhere, the Galaxy S4 with LTE+ is the same handset that we know and love – you'll get a five-inch 1080p display, 2 GB of RAM and 16 GB of flash storage plus up to 64 GB on micro SD. On the software front, Android 4.2 comes pre-installed and Android 4.3 should be available by the time the phone is released.
For more information or to pre-order the Samsung Galaxy S4 with LTE+, visit the product page below. You'll also find the latest pricing and availability information here as it becomes available.
Be sure to let us know what you think of the phone and the price – are you tempted by Samsung's latest, or is the Korean firm saturating the market?