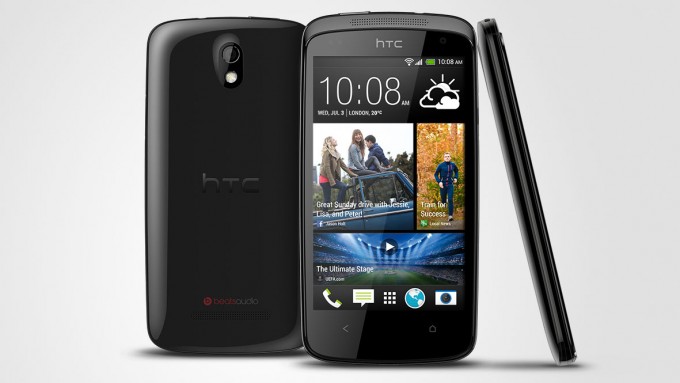 Today HTC announced its latest mid-range phone, the HTC Desire 500, will be coming to the UK.
The Desire 500 will come with a quad-core Snapdragon 200 processor running at 1.2 GHz , a pocketable 4.3″ display, 1 GB of RAM and 4 GB of internal storage expandable via microSD. That makes it quite a bit faster than most other mid-range handsets on the market at this price point. It's also got a nice camera setup, with 8 megapixels on the rear and 1.6 megapixels up front. On the software front, you can expect  the phone to come with Android 4.2.2 and HTC's Sense UI, including BlinkFeed and Highlights.
Now we're happy to be the first to share with you its launch price in the UK. The mid-range phone will be available sim-free from Mobile Fun for £229.99.
At this time, we're not expecting the phone to arrive with either NFC or dual-sim capabilities in the UK, but both colours – lacquer black and glacier blue – should indeed be available. It's scheduled to arrive in mid-September, so there's not too long to wait!
We'll also have our usual wide range of accessories for the Desire 500. We're currently adding new products so it may look a bit sparse, but rest assured we'll have you covered by the time the phone is available!