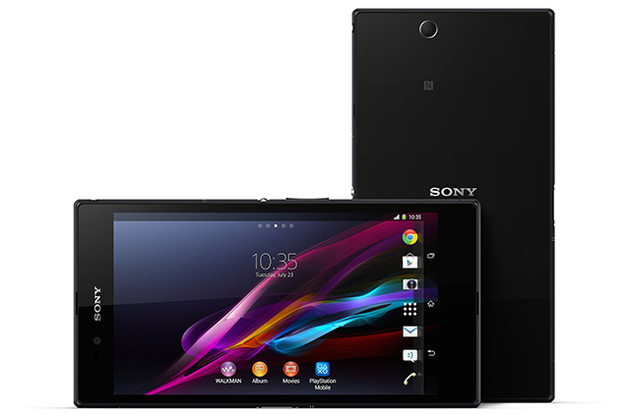 In keeping with the oversized smartphone trend, Sony have announced one of the largest smartphones ever: the Sony Xperia Z Ultra. The phone has a 6.4″ display at 1920 x 1080p, yet is thinner than the iPhone 5 at just 6.5 mm.
Inside the phone are specifications that beat the earlier Xperia Z, with a Snapdragon 800 quad-core processor clocked at 2.2 GHz, 2 GB of RAM, 16 GB of storage plus micro SD. All of this is powered with a 3,000 mAh battery. One thing that's been downgraded a bit is the camera – just 8 megapixels without a flash.
Of course, that big screen makes it ideal for taking notes with a stylus, which is included with the phone. The phone also comes with a companion Bluetooth headset that'll allow you to take calls without getting that Dom Joly look.
Sony have also announced a few other Sony Xperia Z Ultra accessories, including a rather nifty Xperia Z Ultra Magnetic Charging Dock. The dock uses the phone's pogo pins too, so the micro USB port is left free for other accessories. The dock's also compatible with thin Xperia Z Ultra cases, which is pretty cool too.
The Xperia Z Ultra looks great if you want to watch movies, play games or read on your phone. With the Ultra, you don't really need a tablet! It'll be interesting to see what Samsung's Note III looks like, as it's likely that the two phones will go head to head as they're released this autumn.