Does your HTC One X battery last a full day? If you use your phone as much as I do it probably doesn't. Enter the Power Jacket 2200 mAh battery case for the HTC One X.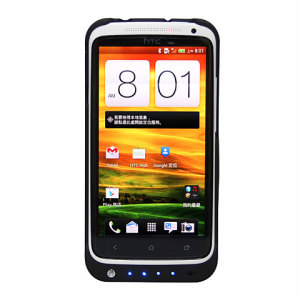 Not only does this battery case protect the smartphone from damage it can also charge its battery more than one time over. The HTC One X is powered by a non-removable Li-Po 1800 mAh battery which means that the Power Jacket, which has a capacity of 2200 mAh, can fully charge the handset's battery once and have some juice left over for later.
This case has cutouts for all of the phone's ports and features and even features a flip stand which holds  the device in a horizontal position, optimal for video watching or email writing.
A great HTC One X accessory, the Power Jacket has LED indicators at the bottom to show battery level so you will always know how much battery power you've got left. If the phone's battery is fully charged the indicators will show this so that you know to turn the case off until needed.