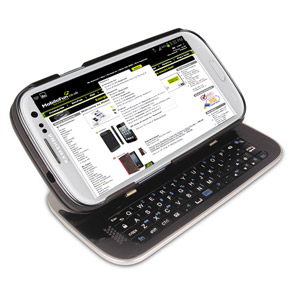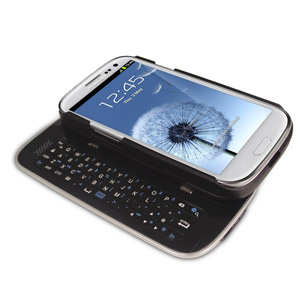 Here's something cool: You can get a physical keyboard for your Samsung Galaxy S3.
Check it out – it's done using this Wireless Sliding Keyboard Case, which adds a full physical keyboard that's just a slide away, like the one on the Desire Z. If you spend a lot of time typing on your smartphone, whether you're writing emails or poking at your web server, then this is an essential accessory.
Just slide your phone into a comfortable typing positioning when you need to write more than a few words, then slide it back down to make the keyboard flush with the phone. You can either slide straight back and forth, or at an angle, depending on your preference. You can even separate the two pieces – since the keyboard connects via Bluetooth, it works up to 10 meters away.
Of course, there are a few differences to having a keyboard built into the phone's chassis – namely, you can take it off when you don't need it, ensuring you don't sacrifice functionality for bulk.
The keyboard also provides an extra layer of protection over the Galaxy S3's case, making it much harder to scratch or knock the rear of the phone. The keyboard case also includes a minimal bumper around the phone that'll help to dissipate minor impacts.
Let me know what you think in the comments below – should we look to get something similar for the Galaxy S4? I definitely reckon it's one of the coolest Samsung Galaxy S3 accessories I've seen, but I'd love to hear your views. Thanks for reading and have a good one!