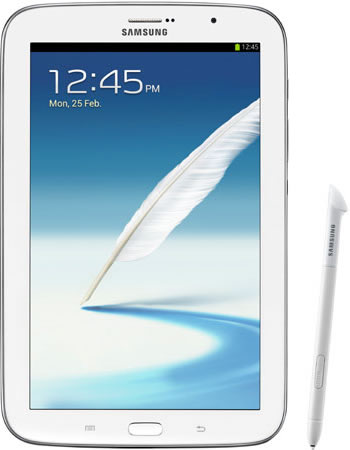 The news of the Samsung Galaxy S IV announcement wasn't the only big thing that Samsung brought to the Mobile World Congress in Barcelona this week. They also brought their largest ever stylus-equipped phone/tablet hybrid, the Galaxy Note 8.0.
As the name suggests, this is an eight inch version of the Galaxy Note. And yes – it's a phone, as well as a tablet. You can make calls on this thing, although you might look silly doing it unless you're using a Bluetooth headset! The Note 8.0 includes the same S Pen stylus as the other Note models, allowing you to write or sketch easily.
The specifications are close to what we'd expect for any other mid-range tablet made by Samsung. We've got an Exynos 4 Quad processor, 2 GB of RAM, and 16 or 32 GB of internal storage plus microSD. The eight inch display clocks in at a resolution of 1280 x 800, the same size as the original Galaxy Note.
The base operating system will be Android 4.1.2, with Android 4.2 to come at a later date. On the software front, we're expecting a mix of apps and capabilities from across Samsung's range of devices, including Galaxy S III innovations like Smart Stay and Note-centric options like MultiWindow and S Note. The device will also be the first to launch with third party S Pen optimised apps, including Flipboard and Awesome Note. Samsung even is throwing in a reading mode that'll adjust the screen brightness for you and a Smart Remote app to use the integrated IR blaster to control your TV.
As well as the HSDPA+ version shown off at MWC, we're also expecting a Wi-Fi only model and an LTE edition. The Galaxy Note 8.0 isn't due until the second quarter of the year, and is expected to cost between $250 and $300.
Here at Mobile Fun, we'll be stocking a range of fresh Galaxy Note 8.0 accessories including screen protectors, covers, Note 8.0 cases, chargers, car holders, desk stands and all the rest.
Got any questions about the Note 8.0 or the accessory coverage we've got planned? Let us know in the comments below! Thanks for reading and have a good day!