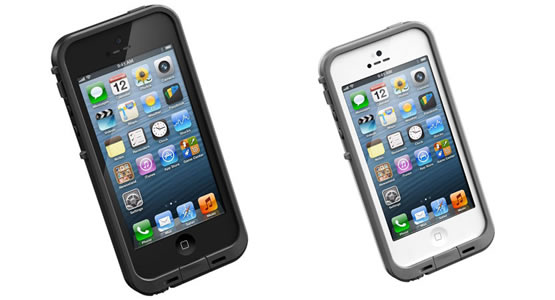 If you've been looking for the ultimate protection for your iPhone 5, we've got the answer. We're now shipping the LifeProof Indestructible Case – the very best protective cases you can get for the iPhone 5 – in both black and white.
This Lifeproof iPhone 5 case is fantastic – it provides unparalleled protection from all manner of natural hazards, including drops, scratches, water, dust, dirt and pretty much anything else you'd care to name.
It's made from a soft waterproof material, and completely enclosed to ensure that nothing can get in. That means you can use your iPhone 5 underwater, at a depth of up to two metres. That's brilliant for underwater photography. The back of the phone is also designed to act as a subwoofer to improve the bass and mid response of your music.
The screen is protected too, with double AR-coated optical glass that protects against scratches and liquid ingress without obscuring your view or affecting the touch screen.
For the protection it provides, you'd be forgiven for thinking that this would be a massive bulky case. Thankfully, the LifeProof case isn't that big, adding only a few millimetres for your phone and adding a soft grip finish that'll make it easy to handle. You'll still be able to fit the phone in your pocket or bag without issue.
You really can't find a better protective case for the iPhone 5 that offers so many features in such a small package.
For more information, please check out the LifeProof product pages linked below. These cases tend to sell out quickly, so be forewarned!
Thanks for reading and be sure to let me know what you think of the cases! Have a good evening and remember to stay safe – both you and your iPhone!