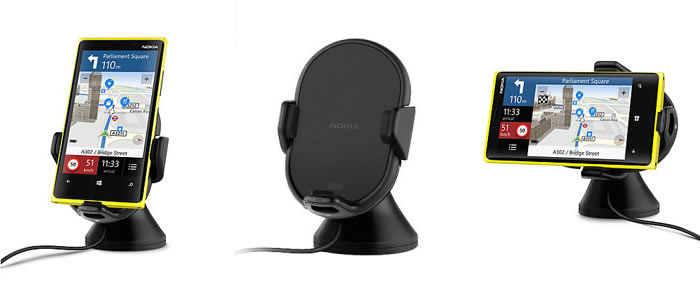 Here's some news that you won't find at the Mobile World Congress – Nokia are releasing a Wireless Charging NFC-enabled car holder for their Lumia Windows Phones! The CR-200 is the first wireless charging car holder for Windows Phone on the market, and it's compatible with the Lumia 720, 820 and 920.
The Nokia car holder is a beautifully simple device – just place it on your dashboard and plug it into your cigarette lighter, then place your phone inside. Your Lumia will automatically start charging wirelessly. The integrated NFC chip also allows you to launch applications like GPS navigation when you place it inside, so you're always ready to go without needing to lift a finger.
The car holder supports both landscape and portrait orientations, so you can make use of either just by rotating the holder. The sleek and stylish design of the car holder meshes well with your Lumia too – this is one of the best looking car holders I've ever seen.
As an official Nokia accessory partner, we'll be one of the few stocking the device upon its launch. We don't have pricing or availability information at the moment, but if you register your interest on the product page we'll let you know as and when that information is available. Of course, we'll blog about it too!
I think this could be the coolest Nokia Lumia 920 car holders I've seen yet. Are you interested in the Nokia Wireless Charging NFC Car Holder?Let us know in the comments below! Thanks for reading and have a good evening!