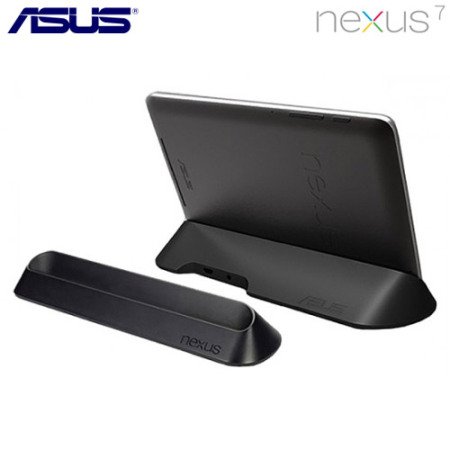 We're happy to announce that we at Mobile Fun will be selling the Asus Google Nexus 7 Audio Charging Dock that's been making the rounds online recently. The dock is an official product from Asus themselves, so you can be assured it's of a magnificently high standard and fits the Nexus 7 like a glove.
This Google Nexus 7 dock makes use of those pogo pin ons the side of the Nexus 7, allowing the tablet to be charged quickly. It also means that you only need to place the Nexus 7 into the dock – there are no fiddly wires or cables to connect so it's always an easy operation. As well as charging, you can also connect a USB cable to your PC in order to copy media across to your Nexus 7.
This item works as a helpful Google Nexus 7 desk stand, holding up the Nexus 7 in a landscape orientation that is ideal for gaming, browsing the web or watching videos. The cradle provides a stable and secure mounting for the Nexus 7; you'll never be worried that your tablet will take a tumble when it's in this official charging dock.
Finally, this charging dock also includes audio capabilities: an integrated audio out port that allows you to easily connect the tablet to a nearby speaker system while keeping the tablet charged. That's ideal for turning your Nexus 7 into a home entertainment centre – just queue up some good tunes via Spotify or Google Music for a brilliant atmosphere.
For the latest pricing and availability information, as always please check the product page listed below. We hope to have more information on this product soon.
Thanks for reading, and be sure to let us know what you think in the comments below! You can also reach us on Facebook at LoveYourMobile or on Twitter @mobilefun.