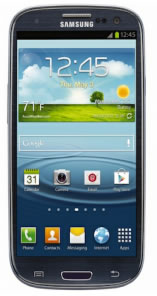 We're happy to announce that we've just added a new item to our site that should be of interest to Samsung Galaxy S3 owners: An extended battery kit that boosts your battery life considerably, from 2100 to 3000 mAh.
That's a hefty increase that should allow you to use your phone for quite a few additional hours. According to Samsung Galaxy S3 battery tests performed by GSMArena upon the release of the Galaxy S3, the phone normally has 10 hours and 20 minutes of "talk time". With this battery, that figure increases to 14 hours and 45 minutes. For web browsing, the phone lasts for 5 hours and 17 minutes without the extended battery, and 7 hours and 32 minutes with. For video playback we see the biggest increase, with the stock 10 hours and 1 minute increasing to a massive 14 hours and 18 minutes! That's good for an extra two films, at least!
As well as the increase in battery life, you'll also notice improved protection for the rear of your phone. The reinforced back cover is stronger than its predecessor, ensuring that it's less likely to snap or pick up scratches. The covers are available in both white and blue, and should perfectly match the original back cover.
As these are official extended battery kits from Galaxy S3 manufacturers Samsung, these items will fit perfectly and are made to as high a standard as the original battery and rear cover.
If you're interested in these extended battery kits, you can view more information and pre-order via the links below. We're expected stock of these in approximately 8 weeks as of this time of writing, but be sure to check the product page for the latest availability and pricing information.
Thanks for reading and be sure to let me know what you think. Have a good one!