The very first
cases for the Google Nexus 10
have been sourced at Mobile Fun. There are different cases available – a 'Multi-Stand Slim Case' and 'Stand and Type' case from SD, as well as an Ultra-Thin Stand Case.
Let's have a look at each. If you'd like to cut straight to the chase, check out the product pages linked below:
SD Multi-Stand Slim Case – available in Black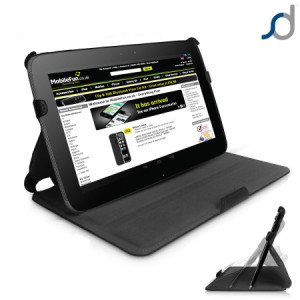 This ultra-slim and stylish case for the Google Nexus 10 includes a multi-angle stand that offers an easily adjustable view of your shiny new tablet. The Multi-Stand Slim boasts a slim and padded design that should offer a moderate amount of protection against scratches, knocks and drops.
SD Stand and Type Case – available in Black, Red, Purple & Blue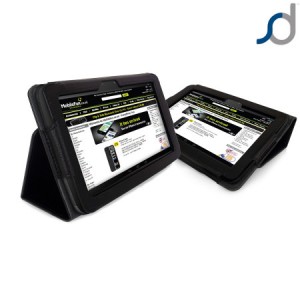 This clever case is a little heftier than the Multi-Stand, but offers additional protection and two orientations, suited for watching films or typing. The case includes cutouts wherever necessary for the Nexus 10's buttons, cameras and ports. The case has a leather effect look, for that leather feel without the high pecuniary and ecological cost of real leather.
Ultra-Thin Stand Case for Google Nexus 10 – available in Black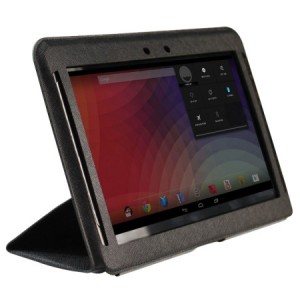 This case also features a leather-style facade, with a soft touch micro-seude interior that offers a snug and comfortable experience for you and your tablet. The Stand Case includes a multi-angle stand which folds into place easily, allowing easy writing, watching films or playing games. The minimalist case gives you as much access as possible to the tablet, ensuring that you'll be able to manipulate the screen as well as the various buttons and cameras across the device.
Conclusion
So there we have it – three brand new cases for the Google Nexus 10. We'll sure to be add more Google Nexus 10 accessories over the coming weeks, so stay tuned to Mobile Fun for all of the latest accessory news. Thanks for reading and be sure to let me know what you think of the new cases on Twitter @mobilefun and in the comments below. Have a good one!