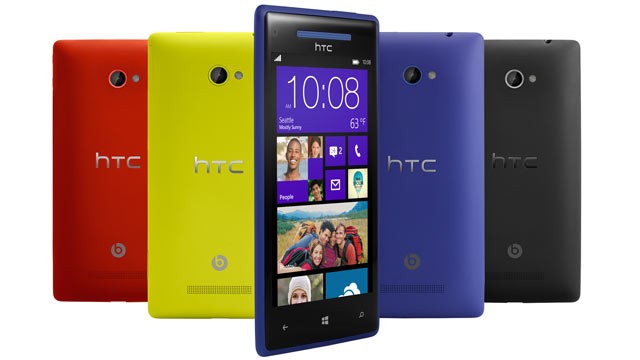 The Windows Phone® 8X by HTC® is coming to Mobile Fun on November 2nd! The flagship HTC phone has been massively upgraded this time around, with impressive specifications and a beautiful unibody design in your choice of four bold colours that'll match the operating system.
In terms of specifications, the HTC 8X is the poster-child for the new hardware support in Windows Phone 8. The phone includes a 4.3″ Super LCD2 display at 1280 x 720p resolution and is powered by the powerful Snapdragon S4 dual-core processor. The sim-free HTC 8X backs this up with 1 GB of RAM, 16 GB of storage and a 1800 mAh battery. The HTC One X found a lot of success with similar specifications, and I'm sure that they'll power the fast and fluid Windows Phone OS well too.
The unlocked HTC 8X will also include some interesting media additions. The 8 megapixel rear camera is normal enough, having previously used on the One X, but the front-facing camera is an all-new model with a 2.1 megapixel sensor and a f/2.0 backside-illuminated wide angle (88°) lens. The Windows Phone 8X also includes a speaker amplifier that should enhance and increase the sound of the phone's rear-facing speaker, working with the phone's Beats Audio integration.
All of this is shaping up nicely, and looks to be one of the two hottest Windows Phone 8 devices so far, alongside the Nokia Lumia 920 which shares many of these specifications, but has a larger 4.7″ display and lacks Beats Audio integration.
What do you think of the new sim-free HTC 8X? Let us know in the comments below or talk to us on Twitter @mobilefun with your answer.