The Google Nexus 7 is still a strong 7″ tablet, even with competitors in the Kindle Fire HD, Nook HD and Acer Iconia A110. I'm still using mine daily and I still find it's the best way to consume media of all kinds, whether that's playing a game, reading a book or watching a film. In this article, we'll be looking to solve a problem I've been having – which case should I go for? Let's find out!
5. Case Logic Google Nexus 7 Sleeve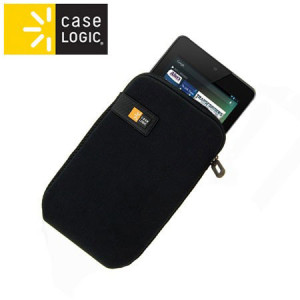 If you're just looking for a safe and secure place to keep your Nexus 7 when you're travelling, then the Case Logic Sleeve is ideal. It fits the Nexus 7, and is even case-compatible with some of the thinner cases. The sleeve will ensure that no scratches or scuffs appear on your case when you're in transit.
4. SD TabletWear Stand and Type – Carbon Fibre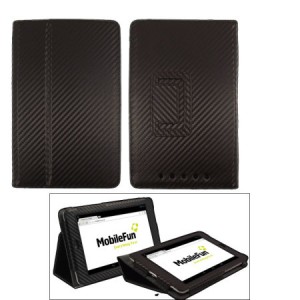 This Carbon Fibre edition of the Stand and Type has proved to be one of our most popular cases, offering that high-tech look for a very good price. The Stand and Type protects the Nexus 7 from damage, but it also adds a useful kickstand that allows you to use the tablet in landscape mode in two different orientations – one for typing, one for watching films or playing games. The Stand and Type also ensures full access to all of the ports and features of the tablet, a trait that's shared with all of the subsequent accessories on this list.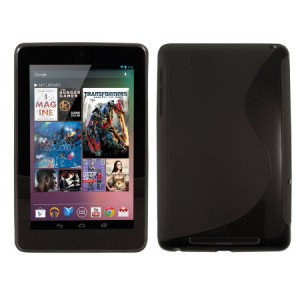 This Nexus 7 cover uses a flexible but tough gel material to provide long-lasting and slimline protection. The Wave is available in a large variety of colours too: black, clear, purple, blue, red and pink. That means you're able to add a splash of individuality to your 7″ tablet. The Wave case also excels at providing protection, with full coverage of the back, sides and corners of your tablet covered from scratches, scuffs and minor impacts.
2. Hipstreet Google Nexus 7 Stand Case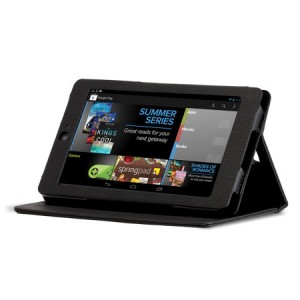 This case caused quite a stir when it was floated as an official Google Nexus 7 case soon after the tablet's launch, but it was eventually discovered only to have been an excellent third party design that meshes well with the Nexus 7's style. It includes a built-in stand to make watching videos or playing games on the tablet easy and has a stylish leather effect that grants a premium look and feel.
1. DODOcase HARDcover – Charcoal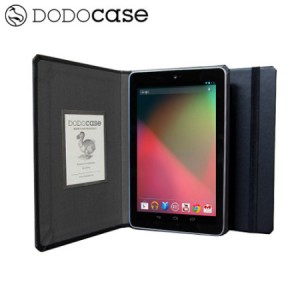 The DODOcase is another popular N7 case for Android enthusiasts, adding understated elegance to an excellent tablet. The handmade book style case protects and disguises the tablet, offering an excellent alternative to leather cases that is much slimmer but doesn't skimp on the style. It also includes support for the tablet's sleep/wake functionality and includes two stand modes: 'perch' (for watching films) and 'type'. This Google Nexus 7 case is handmade in a San Franciscan bindery and exemplifies true craftsmanship. If you're looking for a stylish case with the right credentials, then the DODOcase HARDcover is by far the best option on the market.
Conclusion
I hope you found this top 5 useful – be sure to let me know in the comments below what you think of the cases!