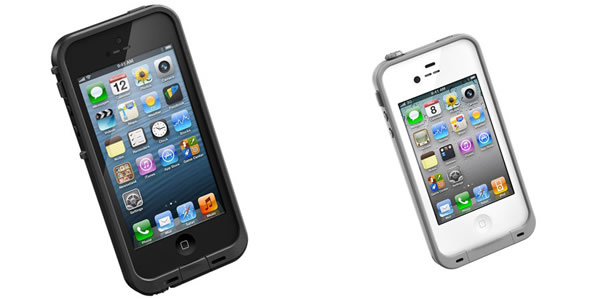 Last week we showed you the LifeProof case for the third generation iPad, and today we've got something even more exciting – the LifeProof Indestructible Case for the iPhone 5. This was one of our most popular cases for the iPhone 4 and 4S, and we expect it to be equally sought after for the iPhone 5.
The LifeProof case really lives up to its name by providing a full complement of protection from all kinds of dangers, including the more standard fare like drops, scratches and knocks, but also includes resistance against water and dust. The LifeProof case even meets US and UK military standards, with an IP-68 rating that ensures complete and lasting protection of your iPhone 5 in even the harshest of environments. The screen protection is also top-notch, with a double AR-coated optical glass addition that provides a crystal clear view and even works underwater – no extra iPhone 5 screen protector needed here.
Unlike a lot of other protective iPhone 5 covers, the clever design of the LifeProof case allows it to be not much bigger than a normal slimline case, so you're not unduly sacrificing the impressive size and weight of the new iPhone. The LifeProof case is sleek and convenient, with an easy grip material that makes it easy to hold onto your phone no matter the weather. Finally, the case includes full access to the ports, buttons and features of the phone without exposing these items to the elements – perfect.
The LifeProof Indestructible case is available for pre-order now from Mobile Fun, and comes in both white and black colour options to match your iPhone 5. For more information, including more detailed specifications and additional photos, please visit the product pages linked below:
Thanks for reading about this case, and be sure to let us know what you think of it in the comments below. You can also reach us with your questions and comments on Twitter @mobilefun.