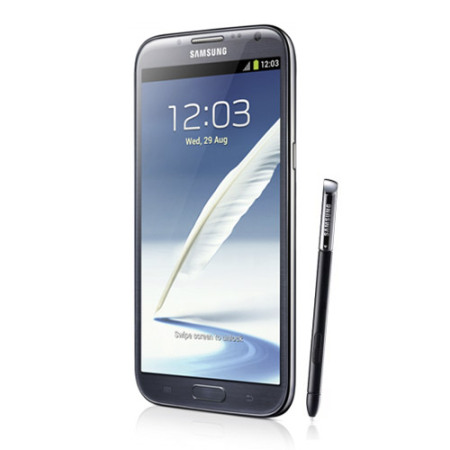 If you're a fan of the Samsung Galaxy Note II but have been holding out for the grey version of the phone, your day is nearly upon you: The
sim-free Galaxy Note 2 in grey
 will start shipping tomorrow!
If you haven't heard about this phone, then listen up! It's a 5.5″ monster phone / tablet hybrid, a follow-up to last year's surprise success story, the original Galaxy Note. A phone that big might sound weird, but it fits in your pocket easily due to its thin build and the massive screen makes almost everything better – watching films, playing games, surfing the web or even being productive. With a bigger screen you can see it all, and even calling with a phone that size isn't really an issue.
The phone is powerful too – it has similar specifications to the Galaxy S III, but with a faster quad-core processor and twice the RAM, 2 GB. That makes it even more brutally quick than the flagship Galaxy S III, allowing it to play movies and games at HD resolutions (1280 x 720) without breaking a sweat. The Note II also includes an innovative stylus called the S Pen, which is pressure-sensitive and is connected to the Note II over Bluetooth.
There are plenty of uses for the stylus, from drawing to note-taking, all well covered by the additions that Samsung have made to the Android OS. The Note II comes with the very latest Android OS, version 4.1 "Jelly Bean", and it really shows – everything on the phone is fast and fluid, with a beautiful look that's powerful and easy to use.
The Galaxy Note II is really looking like the phone of choice for anyone that uses the 'smart' part of a smartphone more than the 'phone' part – if you spend the majority of your time browsing the web, using apps or playing games, then this is the ultimate phone for you.
For more information and photos of the Samsung Galaxy Note 2, please check out the product page linked right here:
Thanks for reading the article and be sure to write in the comments below if you have any questions!