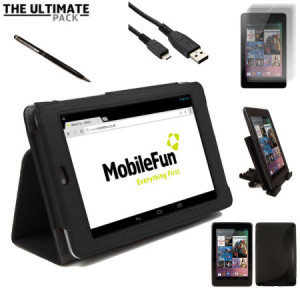 It's not all about the iPhone here at Mobile Fun. We're still adding new options for the thousands of other phones and tablets we support, and one of the most popular right now has got to be the Google Nexus 7. With a £159 price tag, you can't afford not to get one! The 7″ tablet is good out of the box, but it gets even better when you've got the right accessories for it. The easiest and most cost effective way to do that is to grab our Nexus 7 Ultimate Pack, which includes everything you need to really get your Nexus 7 fully operational. Let's have a look at what's included:
Google Nexus 7 case in a leather style for protection, with built-in stand
Flexishield gel case, a thinner and lighter protective option for when you're on-the-go
3 pack of screen protectors, ensuring your screen remains scratch-free
Portable desk stand that conveniently holds up your Nexus 7 for games or films
Stylus for comfortable and accurate drawing and note-taking
Nexus 7 desktop charger that allows you to sync and charge with USB at full speed
With an average rating of 4.0, the Nexus 7 Ultimate Pack has been well regarded by our customers and we're sure you'll like it too.  It's a one stop shop for really completing your Nexus 7, so give it a try and have a look at more information on our product page linked below. If you've got any questions, just ask them in the Disqus section below or share them on Twitter @mobilefun!