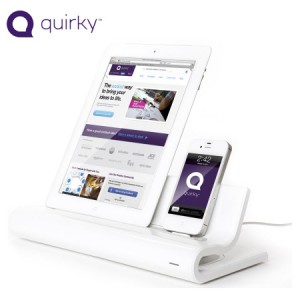 iPhone 5 owners, listen up! We're happy to announce we've got the very first
iPhone 5 dock
in stock now. It's called the Quirky Converge and as you can see it will work with your Lightning cable to charge your iPhone 5 and keep it in an easy-to-view position. As you can see in the video below, it fits the iPhone 5 perfectly and even matches the new Apple aesthetic.
This dock provides 2 amps of power shared between four USB ports, but it will intelligently shift power output depending on what's plugged in. If you've got just an iPad plugged in, it'll receive the 2 amps it needs to charge quickly, while if you've got two iPhones both will be charged at 1 amp. If you've got more time, you can charge four gadgets at 500 mA each. The high number of USB ports mean that you can eliminate the need for four separate AC adapters, saving socket space.
The curved back and clever rubber dock will keep your iPhone 5 and other gadgets readily available. There's more than enough room for an iPad and an iPhone 5 together as well, so you can keep an eye on your iPhone 5 notifications while watching a film on your iPad, for example. And all of the cables are stashed below, allowing for that clean look that Apple products require. The dock works with both side-mounted and bottom mounted cables too, so no matter what the product you should find it plugs in easily and tidily.
Stephen Fry, famous for his love of various gadgets, will be testing the Quirky Converge for his new show on Channel 4, Gadget Man. The show will air later this year, so keep an eye out for it!
For more information on the Quirky Converge, check out the product page linked below.