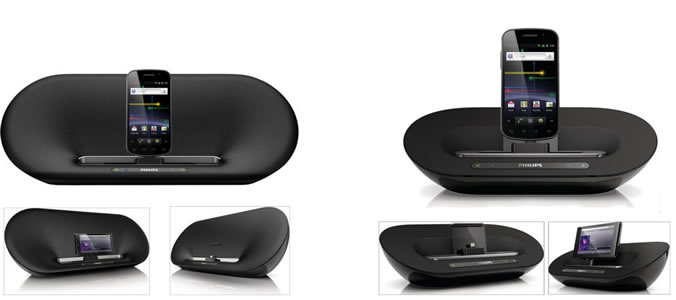 Where these docks really distinguish themselves from their competition is in their fittings – where most Android docks will only fit a few different models depending on where the micro USB port is located, the unique FlexiDock system allows you to connect to phones that have their micro USB ports on the sides, bottom or even the top! The dock also works equally well in portrait and landscape modes.
The docks also contain smart shielding technology, which ensures there's no sound interference no matter how close the phone is. This ensures perfect audio quality every time. The connection is made over Bluetooth, simple and convenient.
This is done though the free Philips Fidelio app, which can play your device's music using the powerful Songbird app, or stream internet music radio. You can also use the app in clock mode, allowing you to set multiple customised music alarms and receive updated weather reports.
The two models differ in the size of the speaker – as you can see in the pictures above, the S851/10  on the left hand side has a significantly larger speaker than the AAS351/05, giving you that little bit extra in sound quality and stereo separation – the smaller speaker is 10W, while the larger is a pair of 15W speakers. The larger dock also includes a 3.5 mm stereo line-in cable for connecting other devices.
For more information on these great Android 2.1+ capable speaker docks from Philips, check out the relevant link below:
Thanks for reading. If you've got any questions about these products (or indeed anything in our inventory, from Bluetooth dongles to phone accessories, then please let us know via the comments below!