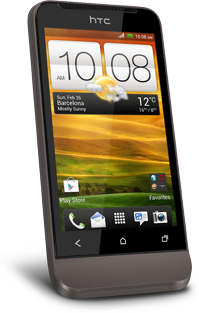 If you're looking for an inexpensive Android 4.0 handset that retains a distinct look and competitive internals, then the HTC One V may be exactly the phone you're looking for.
Released after the HTC One X and One S late last month, this phone is perhaps the first affordable handsets to ship with Ice Cream Sandwich aboard, as well as retaining most of the Sense UI found on its more expensive brothers. The phone has a pronounced chin reminiscent of the HTC Hero, designed to make voice communication clearer by bringing the microphone closer to you, as well as the tradition HTC unibody construction. This is a phone that feels incredibly solid in the hand.
The sim-free HTC One V is equipped with a 1 GHz single core Snapdragon CPU, 512 MB of RAM and 4 GB of internal storage. This can be expanded by up to 32 GB via the micro SD card slot. The phone also includes 25 GB of free Dropbox cloud storage, so you won't be pressed for media space.
The One V has a small and convenient 3.7″ TFT display running at 800 x 480 with capacitive multi-touch. The phone retains the dedicated imaging chip and LED flash of the other One handsets, and therefore its pictures compare favourably to other 5 megapixel handsets. The One V is also strong in terms of connectivity, shipping with Wireless N support as well as Bluetooth 3.
All in all, it's a cut above what we've come to expect from a budget option, and would be a brilliant first phone for a newcomer to Android or those disinterested in the currently popular massive screens offered by more expensive models.
For more information on the HTC One V, check out the product page. Mobile Fun also stock a wide range of HTC One V accessories, including HTC One V cases and HTC One V chargers.