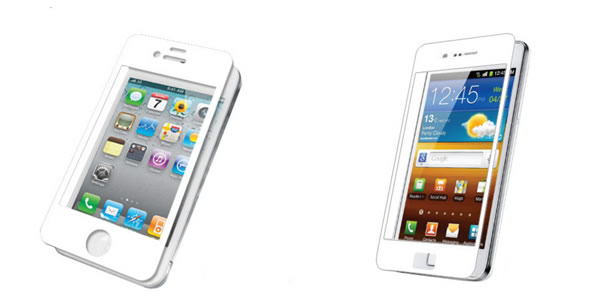 We now offer glass screen protectors for two of our most popular phones: The Samsung Galaxy S II and the iPhone 4S / 4.
Unlike a plastic screen protector, these are extremely easy to apply with no annoying bubbles – it's really a step above a plastic screen protector in every way. Just like a plastic screen protector, the ultra-thin protection adds minimal bulk to your phone (about 1 mm) and still allows you to use the phone's touch screen and buttons as normal.
Screen protectors made of tempered glass are more durable than those made of plastic, offering unmatched impact resistant protection – even if you drop your phone, the fragile screen should survive thanks to the protector's higher compressive strength.
These Ultraglass screen protectors are hard to find, so if you're interested in a glass screen protector for iPhone 4S or glass screen protector for Samsung Galaxy S2 then definitely hit those links. Each screen protector is available in white and black, so no matter which colour your mobile we've got a complementary colour ready to go.
Please let us know what you make of these glass screen protectors. If you'd like one but your phone isn't one of the two mentioned above, then why not let us know? If we get a lot of demand for these, then we could certainly make them available for more phones. Of course, comments go in the section below or via our social media presences on Facebook and Twitter. Thanks for reading!