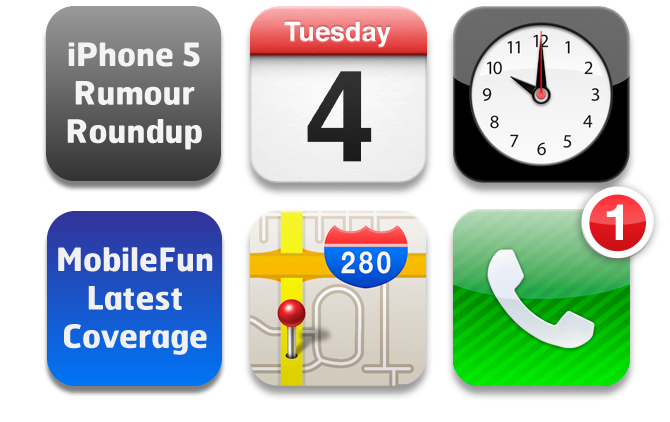 As we all await the announcement of the next iPhone later today at Apple's Cupertino headquarters, new rumours and leaks are still being made, about both the iPhone 5 and the iPhone 4S. Let's go over what's been said so far:
Form Factor: The iPhone 5's form factor is due to see quite a few changes, based on iPhone 5 case designs that we leaked back in July. MacRumors.com ran with our design documents and had the photo below mocked up, which included the changes we highlighted.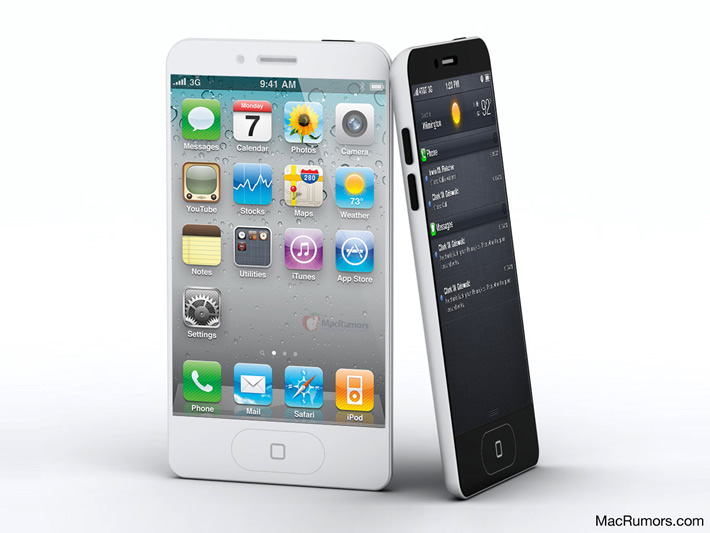 Display: The iPhone 5 display looks to be expanding to stretch from edge-to-edge, granting up to 4″ of screen size to compete against larger-screened Android phones. It seems unlikely that the resolution of the iPhone will change as this would necessitate changes to all apps published on the iOS platform; Apple rather deliberately doubled the resolution from the iPhone 3GS to the iPhone 4 to ensure that old content just appeared at half-resolution instead of some less round fraction.
If Apple doesn't up the pixel count, they may fall short of the 'magic number' which their 'Retina Display' marketing relied so heavily upon. The expanded display might be slightly increased, but use the extra space for edge-of-screen notifications. These were hinted at in a patent last year, but they haven't materialised in developer builds of iOS 5 so it seems unlikely that they'll turn up.
Buttons: The home button may serve as a touch-sensitive area, allowing the use of multi-touch gestures here. The hardware button might remain, with the new functionality laid on top, or might be eliminated altogether so that the area is solely a touch point.
There are changes elsewhere too — we know from earlier case design leaks (including from Case-Mate itself) that the iPhone 5's lock button will switch sides. Other side buttons seem to remain in the same place, but the volume buttons seem to have changed back to the rocker concept found in 3G iPhones rather than the iPhone 4's dedicated up and down buttons.
Back: The back cover of the iPhone 5 looks to be returning to its old roots as well, with a curved back in evidence that resembles the one used by the 3G iPhones. The back also looks to be metal clad once again, perhaps due to problems with produced curved glass.
Some sites are also suggesting that the phone will be wider at the top than at the bottom, producing a 'teardrop' design that angles the phone for easier desktop use. This seems unlikely however, given that it would cause the iPhone to tilt to one side when used in landscape mode.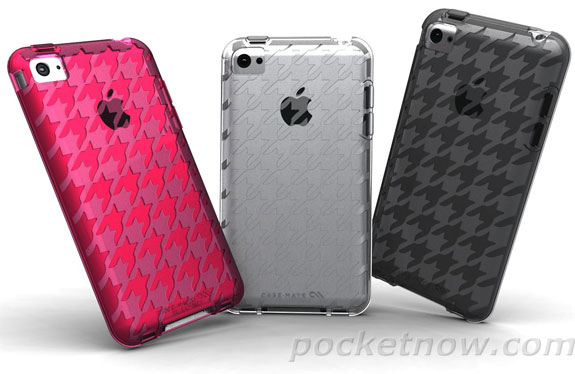 Processor: The new iPhone 5 will almost certainly offer a faster dual core processor to remain competitive against the marauding Android handsets. Apple already uses a dual core ARM A5 chip in their iPad, so including this in the next iPhone seems like an inevitability.
If the iPhone 5 launches next year, expect a different chip clocked to a higher frequency to stay competitive (somewhere in the region of 1.5GHz seems likely).
RAM: The iPhone 5 is due to receive an upgrade to 1 GB of RAM, doubling its previous amount.
Internal Storage: We've received word from a Vodafone executive that the new iPhone will include options of up to 64 GB of flash storage. These are corroborated by screenshots taken of the Vodafone Germany website, where iPhone 4S in Black and White were offered with 16 GB, 32 GB and 64 GB for a few minutes. Expect the iPhone 5 in these sizes as well.
Camera: We've received quite a few words on this upgraded component, including photos of the camera assembly itself via Chinese manufacturers. The camera looks to be upgraded to 8 megapixels and is said to include a back-lit sensor to improve low-light image quality.
There are also references to panoramic photos in the iOS 5 documentation, so expect this feature to be standard. If the iPhone 5 does launch next year, it'll face stiff competition from the Samsung Galaxy S III which is said to boast a 16 megapixel sensor.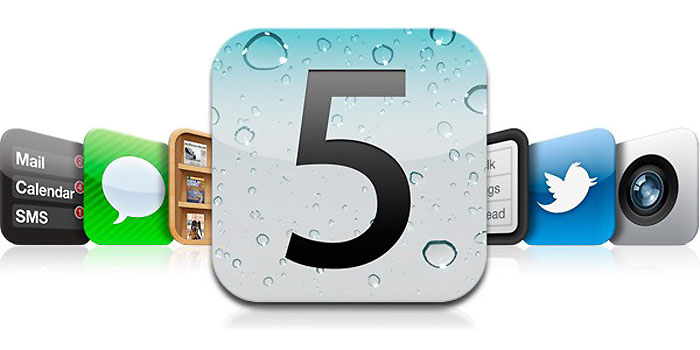 iOS5: There are software changes too, which developers have seen firsthand with the iOS 5 developer preview. The most obvious change is that iCloud cloud storage has been integrated in a big way. There's also improvements to notifications, making them for akin to the Android notification system. Several apps will also see updates, including Mail and Safari. Twitter integration is another plus, with many apps now offering the option to post content to Twitter.
Speech: Ever since Apple acquired personal assistant app developer Siri last year, insiders have expected improved voice control to the iPhone. This looks to be coming together nicely, with reports of a new application called Assistant which will be capable of performing a number of speech recognition and speech synthesis tasks, including transcribing dictated messages and performing more voice-activated commands than ever before.
Whilst the iPhone 4 already contains voice control, the level of integration is said to be 'world changing' according to Siri co-founder Norman Winarsky, who heralds it as the first 'real AI with real market use'. Assistant will reportedly only be available on the iPhone 4S and iPhone 5, as it requires the RAM and CPU upgrades that both will include.
Release Date: The iPhone 5's release date is still a matter of speculation. Due to the various slowdowns that Apple have experienced in manufacturing the device, I expect that the iPhone 5 will be released in 2012, although Apple has surprised us before with quicker-than-expected product releases. The earliest possible date will be October 14th.
We'll have to see which of these rumours are true once the announcement is actually made — here at Mobile Fun we'll be covering the launch and offering iPhone 5 accessories as soon as ever we can afterwards — including iPhone 5 cases and iPhone 5 screen protectors. Feel free to check out our iPhone 4S rumour roundup too.
Let me know what you think via social media channels as usual, or via the comments section.