For every purchase of an Otterbox Case, whether that be an Otterbox Impact, Otterbox Defender, Otterbox Commuter or Otterbox Reflex series, MobileFun exclusively can offer a free Otterbox Phone Stand to go with it. To receive a free stand use the code 'OTTERSTAND' in the checkout, when you buy an Otterbox case.

Completely universal
The Otterbox desk stand has a unique design which allows it to fit any mobile phone or MP3 player. With a base large enough to hold even the largest of mobile phone, you can be sure that it'll offer a nice and comfortable fit for any device which you place in the holder. The stand doesn't feature any side arms which allows you to place your phone or MP3 player either in a portrait or horizontal rotation which makes it easier for you to be able to view your videos, play games, search the internet and even use FaceTime.
Multiple viewing angles
The Otterbox universal desk stand has a unique adjustable bracket which allows you to change the viewing angle of your device whilst its in the holder. The bracket gives you 7 different positions to choose from which is designed to make your viewing experience of your device even more comfortable.
Strong and sturdy design
The Otterbox universal desk stand is made from strong plastic which is designed to hold the weight of any phone or MP3 player you place in it. Its strong and study design means that it'll comfortably hold your phone in any rotation without fear of falling over. Ensuring that, whilst in the holder, your device will be safe and sound.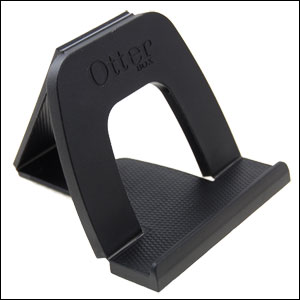 *The offer lasts until the end of July 2011 or until stocks last. Use the code OTTERSTAND in the checkout, one per customer.