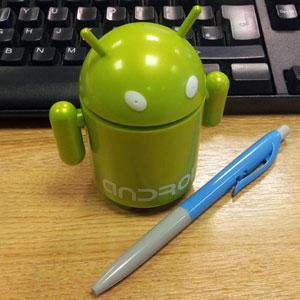 I was happy to see this morning that I had a visitor on my desk. His name is Android (Andy for short), and he's got a pretty sweet gig as the mascot for Google's mobile OS.
A Great Little Sound Box
The little guy isn't just for show either; you can connect with him over Bluetooth using your phone or PC, and then he'll happily belt out whatever tune you play. If you'd like to change tracks, you can just twist his head. If you want him to play or pause, just push down on his head. It's a bit cruel, so you might want to recharge him over USB when you're done, just to put things right.
The speaker is of great quality for its size, and at 2W loud enough for my co-workers to glare at me a bit. You can even give him a platform for his considerable aural talents with the included desk stand, which is useful for bringing the microphone a bit closer and enhancing the sound quality.
You're Not Just Talking To Yourself
His talents aren't limited to music, either. You can also use him to relay your calls, with his built-in microphone. The sound quality is surprisingly good, with calls coming through loud and clear. You can also use the speaker to perform voice dialling and voice commands. Altogether, it's a cute and convenient way to handle your calls hands-free.
Want one of your own?
If you'd like a little more Android in your life, you should order an Android mascot sound box of your very own, exclusively from Mobile Fun. You can even take a look at a video below, which shows off its features in a little more detail.
Social Media Giveaway
We're giving away five of these Android buddy speaker robots to our social media followers.
To enter, just retweet us, Google +1 us, or like us on Facebook!
If we get a good response I'll try to give away some more.