Here's my weekly round-up of news tips from us – as usual, if there's something you want to know more about then just drop me an email.
A fabulous array of new SIM free handsets have come into stock here this week – we've got the SIM free HTC 7 Pro for £459.95, the SIM free Optimus 7 for £389.95, the SIM free Samsung Optium 7 for £484.95 and the SIM free Nexus S for £479.95.
If you're an iPhone 4 user who wants to avoid cutting your standard SIM down to size, the Micro SIM adapter and stand case for iPhone 4 might be of interest.  This is a way to let you continue using your standard SIM in the iPhone 4 without having to cut your SIM down to MicroSIM size.  It looks a bit fiddly to me, but could be very useful for people who switch between different phones regularly? Let me know whether you think it's a good idea or not!
We've just got in the iChair for iPhone 4 and iChair for iPad, too. These slim-fitting cases with a kickstand which will let you prop your device up either horizontally or vertically, making it easy to watch videos and look at photos hands-free and comfortably. These look pretty good for terrible telly-addicts like me who like to catch up on their TV on the train (Is anyone else watching the new series of Being Human? OMG).
For those who prefer Android to Apple, the HTC Desire HD Case with Kickstand does the same job as the iChair but for the Desire HD.
Something pretty nifty for gaming addicts that's coming soon are Thumbies for the iPod/ iPhone, which are little round friction pads which you stick onto the screen of your iPod or iPhone.  They use heat-pad technology to take gaming to a new level, creating external gaming controls which give you a better feel and experience.  As ever, there are loads of gadgets for gamers available over at our sister site www.gamingzap.com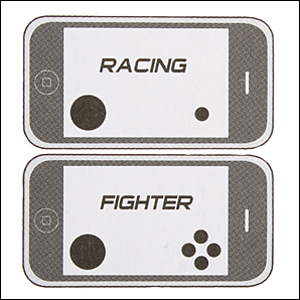 Until next week!
MF Nat