Following on from my post on iPhone Bike Mounts, here is the list that I promised containing the top ten iPhone Bike Apps. Some are free, some are paid but they're all available in the app store now and are designed to make tracking your movements and recording your progress as easy as possible, in addition, some of the apps will provide some form of navigation or integrate with maps from the Ordinance Survey.
Whether you commute to work  on your bike, cycle for fun or to keep fit, there will no doubt be an app here that will come in handy. I'm not going to pretend to be a cycling enthusiast – my bike only comes out of the shed about 4 times a year, but writing this gave me a good excuse to fetch it out and take it for a spin to see how these apps measure up.
Reviewing 10 apps in full would probably have killed me, so I only tested the main, basic features of the app. For a more detailed review of some of the features, you'll need to read the reviews in iTunes, but you'll find a summary of the app and my initial thoughts listed below.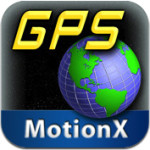 1. MotionX GPS
I was keen to try Motion X as it's had a lot of mentions and recommendations on various iPhone forums. As with most of the apps here, there are two versions, a Lite version and the fully functioning app. The full version has more features than the lite version and is well worth the £1.79.
It's one of only a few apps that have iPod support built in, allowing you to change/control your music without having to quit the app and lose your data. Controls on screen are clear and simple and can be used even when cycling. It can store over 300 waypoints, 100 routes and has the option of sharing them using Google Earth, Google Maps or Facebook/Twitter. As well as recording your route, it will allow you to monitor your speed, distance and journey time.
MotionX Lite – Free
MotionX GPS – £1.79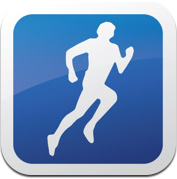 2. RunKeeper
There are two versions of this app available, the free version and the pro version – I tried the free version and was pretty impressed. The App isn't just for cycling, it can be used for a number of sports and has the ability to change activity in the app settings. It tracks your speed, distance travelled and number of calories burned off and tracks your progress on a map. All workouts can then be synced to a website where you can monitor your progress
It has built in support for iPod so you won't need to close the app to change tracks or switch playlists, but as with every app on this list, if you get a call or a text it can interfere with the data it records. Hopefully when iPhone OS 4.0 comes out next month this kind of app is one that will be able to run in the background.
The extra features in the Pro version don't add any extra features to the core purpose of the app, but allow you to do more with the camera & iPod, as well as giving you audio updates on your progress through your headphones.
RunKeeper – Free
RunKeeper Pro – £5.99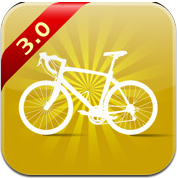 3. Cyclemeter
At just under £3 this is a great app. In terms of functionality it's similar to RunKeeper, (to be fair, the functionality of all the apps on this list are very similar) but the main difference is that this app has been designed specifically for cyclists, with other dedicated apps for running & walking. Featurewise this is a real challenger to RunKeeper as it's half the price, but has pretty much all the same features – possibly a couple more.
I liked the fact that you can start and stop tracking by using the answer button on your earphones instead of having to touch your phone. Voice prompts and alerts are another prominent feature of the app – you can set up alerts that tell you your speed, distance etc at pre-defined intervals, or just tap your headphone remote for an update.
Recorded routes can be uploaded to Google Maps and shared with others and it's got twitter and facebook support too -but to be honest most of your friends will be too busy playing farmville to notice that you've just been on a bike ride.
Cyclemeter – £2.99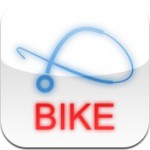 4. SportyPal
SportyPal is essentially a speedometer for your bike. It uses GPS data to calculate your speed and distance travelled. It stores your routes and lets you upload them to the SportyPal website, where you can analyse and review your trips.
It's simple, works well and has a nice clean interface. It's jumped on the Facebook/Twitter bandwagon, but I'm not really sure what the point of it is.
It's a good app if you're just looking for simple tracking and speed data, but there are other apps that do more for slightly less, although none of them are quite as clean and simple to use.
SportPal – £2.99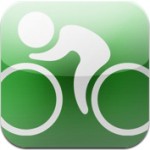 5. B.iCycle
This is a really nice app that's been designed specifically for cyclists – and it shows. The screen layout is clear and uncluttered. You have 3 screen options – split screen shows your speed and position on a map, big map for full screen tracking on a map and a data screen that shows all the stats you could possibly want to see.
There is an export option – at the end of your trip the app will ask you if you want the route emailing to you as a KML or GPX file. You can then use this file in Google Maps/Earth to see where you've been. Maps in the app are downloaded as they're needed, but once downloaded, it saves it on to the device, allowing you to continue to use the app even if you're out of signal.
It's not as fully featured as some of the others in this list, but it's still worth looking at, although there's no lite or trial version, so you'll need to pay to try it.
B.iCycle – £5.99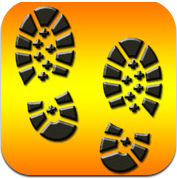 6. OutDoors
Outdoors is a great app, but not one for the casual cyclist. Mountain bikers, trekkers and walkers who enjoy venturing cross country will absolutely love it, but for your average city commuter it's probably got way more than you're ever likely to need.
It has maps from Ordnance Survey maps included with the application that allow you to browse and plan routes across your chosen region. As you'd expect with OS maps, the level of detail is excellent and in 1:250000 scale. Maps are stored on your phone, so even if you lose signal you can continue to wander about. You can build and plan your own routes on the device or import them from the web and save them on your phone.
The App isn't designed exclusively for cycling as it gives you the choice of either walking or cycling. The only downsides to this one are that it's not cheap – The main app is free but for more detailed regional maps, you'll need to download them as an in-app purchase – these are currently going for around £10 each – so for the whole of the UK, it could get expensive. Having said that it's still an awesome app. Tracking isn't as detailed as some of the others in the list, but this is more about route planning and navigating than it is tracking your route and recording your progress.
OutDoors is free, but regional maps are £9.99 via in-app purchase
7. Every Trail
EveryTrail is similar in a few ways to Trails but has a lot more functionality. It allows you to track your routes, attach geo-tagged photo's to your route and then share your routes with friends and family either through Facebook & Twitter, or through the EveryTrail website (Pro Version only). You can save your trips and can also search through trips made by other app users.
To be honest, for commuters and those who cycle to keep fit you might struggle to find a use for this. It can be used for walking as well as cycling, and I'm more likely to use this again then next time I go camping or on a trekking weekend than I am the next time I go out on my bike. It's a great app for recording and sharing where you've been and is a must have app if you enjoy leisurely walks or bike rides out in the country.
I tried the free version which is ad supported and didn't really bother me too much. The free version doesn't give you the option to sync your routes with the EveryTrail servers or let you save maps for use offline, so if you're out cycling in the middle of nowhere and lose signal, you could have problems. Start off with the free version to make sure it's what you need, and if it is upgraded to the Pro version – the £2.39 is well worth it.
EveryTrail – Free
EveryTrail Pro – £2.39
The Bike Computer is a relatively simple, no frills app that tracks your route and displays information on your progress. It's from the same developer as EveryTrail, but is clearly their budget offering.
It does an ok job, information is clear and easy to read while you're cycling, but I found it a little on the buggy side. Updates are promised soon, so if you only cycle for a hobby and don't need anything too serious it's an ok app to go for.

Cost: Free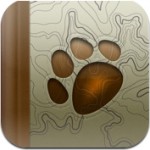 9. Trails
This is more of a tracking app than a monitoring app. It's all about recording where you've been, recording gps data for photos. It has got some monitoring ability, but speed is recorded as minutes per mile, suggesting that it's aimed more at walkers than cyclists.
I tried the free version, which was fine, but it only lets you store 5 routes at a maximum of 5 minutes in lenght, so if you're often going out and about and want to record where you've been, you'll need to pay for the full version which gives you unlimited routes. Routes can be imported and exported in the GPX and KML formats – standard formats for handling GPS data to geo-tag photo's and record your journeys in google maps and various other online sites.
Trails Lite – Free
Trails – £2.39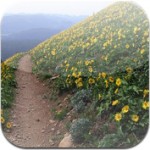 10. Trailguru
This is a really simple, basic tracking app. It tracks distance, speed and elevation. You can view where you've been on a map and post your route to the Trailguru website. It's pretty basic, but does what it sets out to do.
There's no iPod integration either, so you'll may lose data when trying to change track. Although it's a free one, there are other, better alternatives.


Trailguru – Free
One app that's worth a small mention that I already had on my phone was CoPilot Live. While strictly speaking it's not a biking app, it does have a cycle mode and is better at getting you from point A to point B than some of the others listed above. What it lacks though is any form of tracking – but if like me you end up in a random field in a part of town you've never seen before you'll be glad you had it!
So there we go, that's my top ten iPhone Bike apps. If you use any of the apps listed here, let me know what you think of them, or if you think I've missed any out add it to the list by leaving a comment below.