When you make the investment to upgrade your gaming experience to immerse yourself in a beautiful world of virtual reality, you may find yourself wanting to look after this amazing piece of technology. Many people incorporate an aesthetic "gaming setup" with their consoles, monitors, and even their VR Headsets. We will show you the best way to store your VR headset, with benefits to ease of grabbing and playing to even showing off your Oculus Quest 2. Ensure it fits that perfect setup picture. Read on to find out more…
---
1. Universal VR Headset Display Holder (Keep it handy on your desk!)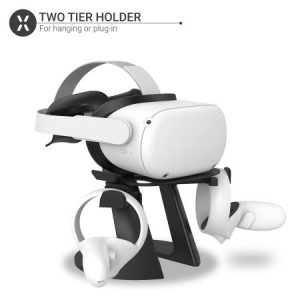 When you have finished with your games, you do not want to put your VR Headset and accessories just lay around waiting for an accident to happen, right? This is where Olixar can help you out with their Universal VR Headset Display Holder which keeps your precious device safe! Here is why this desk-friendly VR Mount may be for you!
Stable and Durable Design – This VR stand is the perfect way to show off and keep your headset and touch controllers safe when you are not playing. You will not have to worry about any damage to your device.
Hang and Charge – There are two different holders for your specific needs. You can hang it up or plug it in to keep it charging to play again. The options are endless!
Easy to Install – You do not need any tools or expertise to put up this VR display holder! Created in minutes, you can assemble and disassemble whenever you need!
Universal compatibility – This will keep your VR Headset safe with numerous brands such as Oculus Quest 2, HTC Vive, Google Daydream, and many more. It will fit most of your VR accessories to be displayed.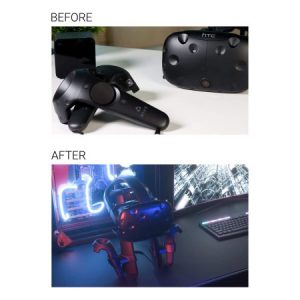 ---
2. Universal Wall Mount Bracket For VR Headsets (Hang it up for later!)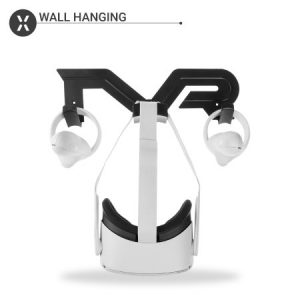 The second way you can protect your VR Headset is by hanging it up on your wall, to feature like an art piece in your gaming setup. This can be done with Olixar's Universal Wall Mount Bracket For VR Headsets and may be the final product you need! Here is why you should buy this wall-mount…
Stores the VR Headset and Touch Controllers – This sturdy wall mount will hold both your VR headset and Touch controllers, portraying them safely until you grab them for round two!
Saving Space – No more having a messy desk, ensuring the whole VR set is kept together and looks amazing on your wall!
Robust and Durable – Made of high-quality ABS plastic, it will easily hold the weight of your VR headsets and controllers, so you do not need to worry about your gaming devices breaking.
Universal compatibility – This VR Accessory works with many different variations such as the Oculus series, HTC Vive, Samsung Gear, and much more! It will protect and display your Virtual Reality devices perfectly.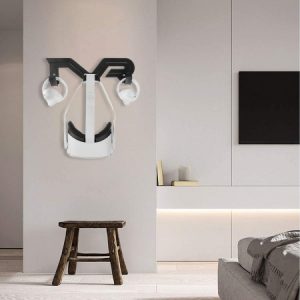 ---
Wrapping up
We hope you enjoyed our guide for the best accessories to store your VR headset and have found something to make your virtual reality experience, even better! If you want to know more about any of the virtual reality accessories mentioned in this blog or to see even more products available, please click here! Alternatively, watch the video below for more information!
---
Georgia Ryall
Georgia Ryall is the Amazon marketplace apprentice, soaking up all the information like a sponge! After studying Media & Communications at University, is now stepping out to the digital marketing world and wants to learn it all! A huge lover of digital marketing, movies, and gaming.