Welcome to our video round-up featuring 5 of the best clear cases around for Samsung Galaxy S9 Plus! Although each case is clear, each design protects in a different way, so it really is beneficial to watch this video before you make your choice of case for your Samung S9 Plus. 4 of the featured cases are also available for the Samsung S9 so without further ado let us take you through them…
1. Spigen Ultra Hybrid Samsung S9 Plus Bumper Case
Ideal for general everyday use this case will guard well against a variety of bumps and scrapes thanks to the fused two piece design and advanced shock absorption technology. This case features a fused two piece design and advanced shock absorption technology.
2. Olixar Ultra-Thin Samsung Galaxy S9 Plus Case
For those who are after a case that won't add any bulk to your phone and still show off its good looks then this is definitely the case to choose. Also just like the aforementioned Hybrid this case works perfectly with wireless charging.
3. UAG Plasma Samsung Galaxy S9 Plus Protective Case
This model really is an ideal pick for those after solid total protection and ok, it is maybe not the clearest of the bunch that we have featurred but the rugged shock absorbing corners, raised lip and the honeycomb interior combine to provide your S9 Plus with protection that exceeds even military drop test standards.
4. OtterBox Clearly Protected Skin Galaxy S9 Plus Case
Now we're back with the really clear cases and this is something that Otterbox do not usually dabble with. The clear protected skin offers a nice addition to the one of the most famous case brand's range. This case is all about wrapping your phone in invisible protection.
5. Ghostek Nautical Samsung S9 Plus Waterproof Case
With a simple clip-on design, while it is thicker than the majority of the cases we've featured today, the Nautical offers waterproofing like no other – Up to a depth of 20 feet (6 metres); this case is ideal for anyone who like to splash about in the water!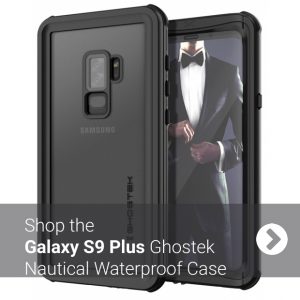 Why not check out our extensive range of Samsung Galaxy S9 Plus Clear Cases and Covers