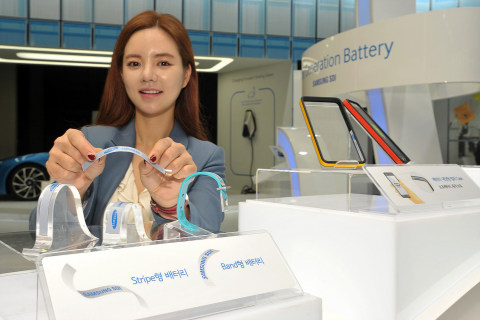 Samsung unveiled some new battery technologies recently at the InterBattery 2015 expo in Seoul. They seem quite promising thanks to their flexible nature and high energy density, and they could find their home in millions of smart gadgets in years to come. They're called Stripe and Band; here's what we know so far.
Stripe
Stripe batteries are thin and flexible, with the ability to "bend and conform freely as a fibre." They measure just 0.3mm thick, thanks to the use of cutting-edge materials. It also is incredibly efficient and energy dense due to "minimising the weidth of battery sealing". The real use case of stripe batteries will be in other forms, though. Due to its easy adaptation into different forms – hairbands, necklaces, t-shirts – it should be possible to power innovative new wearables using these stripe batteries.
Band
Speaking of wearables, we have the Band battery technology as well. This is intended for use inside the band of a smartwatch or fitness tracker; normally the battery for such a device would be built into the case. That means we could see much slimmer smartwatches that more ably copy the dimensions of traditional watches, or we could instead just see a rise in battery life if both types of batteries are used together. Samsung are suggesting that a 50% increase in battery life should be possible when using these batteries. Of course the strap is a flexible place, so you'd want to ensure that the battery doesn't degrade due to bending. Samsung have reportedly tested the batteries up to 50,000 bends, so at least medium-term survivability shouldn't be a concern.
Conclusion
Samsung has introduced some pretty cool design innovations over the past couple of years, including screens and flash storage. I wouldn't be too surprised to see these designs make their way into new Samsung products over the next few years; we might even see a Galaxy Gear smartwatch using these new batteries. It's an interesting time, that's for sure.
What do you think of the new tech? Let us know in the comments below.