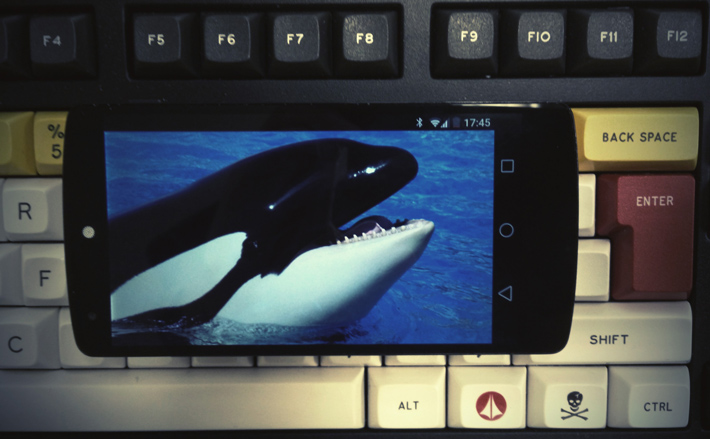 After nearly a year of radio silence, it now seems likely that Google will release a new Nexus smartphone in the coming months. That smartphone will be called the Google Nexus 6, and it may be the last of its kind.
Before we get into the rumour roundup proper, let's take a step back and see why the Nexus program was started in the first place – and how it's evolved since its inception.
A potted history of the Nexus program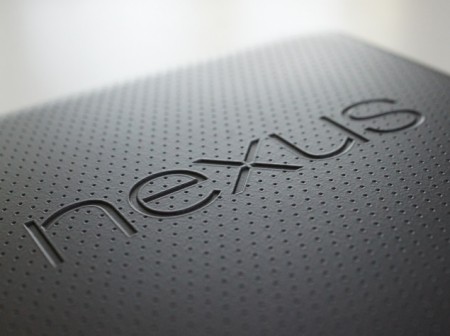 The Nexus program began in 2010, with the Nexus One smartphone. It was designed to allow Google to present an pure example of their Android operating system, unmarred by modifications by third-party manufacturers, allowing these partners to better make the next generation of Android devices.
With the release of the Nexus 4 in 2012, Google offered another benefit: leading-edge hardware at a near-cost price. That made the Nexus 4 a firm favourite with Android enthusiasts, who recommended the handset to their friends and family as a good way to get into Android. The Nexus 7 tablet and Nexus 5 smartphone continued this trend, offering an excellent hardware package at a very reasonable price. Both devices sold well, even while supplies remained tight and advertising minimal.
The success of Google's Nexus program paved the way for two things: low cost smartphones running pure un-skinned Android, like the Motorola Moto G, and Google Play Edition devices, which were conversions of existing flagship phones to run Google's stock OS.
While these new additions were appreciated by enthusiasts (and their audience of more mainstream users), no new Nexus devices were released after the Nexus 5 in 2013. Rumours began to appear about a new program, Android Silver, in which Google would run considerable ad campaigns in exchange for greater control of Android running on their partners' flagship devices. It sounded like the days of good value Nexus devices was at an end, to be replaced only by high-end examples.
For the first half of 2014, this was our reality – it didn't look like any new Nexus devices were coming. But as July has turned into August, a new series of leaks and clues has emerged, suggesting the release of at least one more Nexus device is on the horizon.
Nexus 6 rumour roundup
Here's what we know so far. The next Nexus will be made by Motorola, and is known under the Shamu codename – an aquatic theme reflected by the entire Nexus series (e.g. Grouper, Hammerhead, Mako).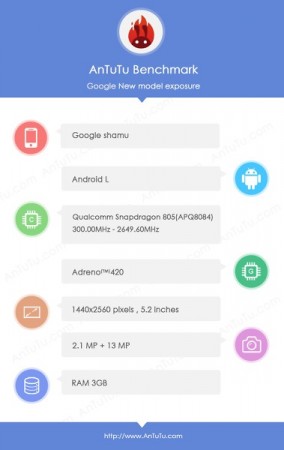 If the information leaked so far is accurate, the phone is set to be the largest Nexus device yet made, with a 5.2-inch screen at a industry-leading 2560 x 1440 resolution. The phone looks impressive internally as well, with a next-generation Snapdragon 805 quad-processor at its heart backed with an Adreno 420 GPU and 3 GB of RAM. A 13-megapixel camera sits on the rear of the device, while a 2.1-megapixel front-facer completes the imaging arrangements.
Of course, a Nexus phone wouldn't be complete without a new, pure version of Android, and that's exactly what we find here. The phone has been recorded as running Android L, which is currently available as a developer preview for the latest released Nexus phone, the Nexus 5.
The Nexus 6 is likely to be released this autumn alongside Android L. September seems the earliest potential date, but a release in October or even November is also possible. The Nexus 5 was released in November 2013, so releasing before a year has elapsed would seem an obvious target… not to mention a release in time for the Christmas rush.
The Nexus 6 looks like an exciting return for the Nexus program, particularly if Google are able to keep the price down to their usual Nexus levels. If the Nexus program is dying, best that it goes out with a bang.
Signing off
We'll continue to bring you more Nexus 6 news as it becomes available, and of course we'll have a full range of cases and accessories for the phone once it is announced or leaked more fully.
Thanks for checking out the article, and be sure to let us know if you're planning to pick up the Nexus 6.