Pros:
Bright and beautiful AMOLED screen
Less plastic, more premium than previous Galaxy devices
Cons:
Gimmicky hardware additions
TouchWiz modifications may not be to everyone's taste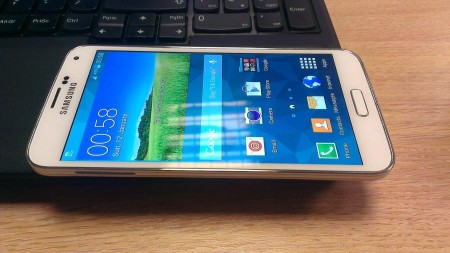 The Samsung Galaxy S5 is the latest in Samsung's line of flagship Android phones, refining rather than redefining the series.
Running Android Kitkat (4.4.2) out of the box and with the requisite TouchWiz additions (now loved and hated by Samsung fans in equal measure), alongside a 2.5ghz Quad Core Processor, interaction with the S5 feels silky smooth.
Its 5.1" 1080P AMOLED Screen gives a striking first impression and the relatively thin bezels prevent it from edging too close to 'phablet' territory also keeping it fractionally smaller than the Sony Xperia Z and HTC One (M8), its two closest competitors. The fantastic screen also perfectly showcases the new 16MP Camera which is capable of filming at 4K.
The review model is 'Pearl White' but the S5 is also available in Black, Blue and Gold (not quite the champagne gold which seems to be 'in' now, but close) and has a 'dimpled' finish making it feel much less plasticy than previous Galaxy models.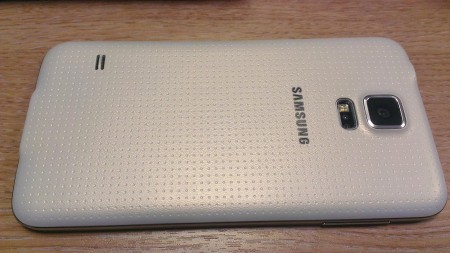 One of the more interesting additions to this year's model is a heart-rate monitor located on the back of the device, just below the camera lens. It's closely integrated with Samsung's S Health App but its necessity is questionable.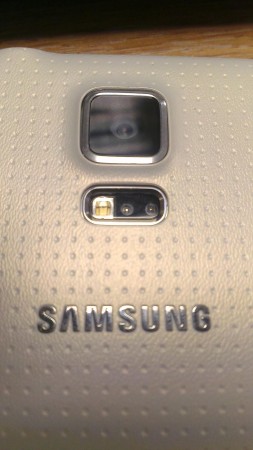 Further, and in a clear attempt to ape the iPhone 5 and HTC One Max whilst adding another USP, the S5 includes a fingerprint scanner – ideal for upping security on the device although its reliability is something that requires a longer term test. So far the consensus is that this is not as accurate and useful as the one featured on the iPhone 5S.
Following the trend set by the Sony Xperia Z, The S5 is both water and dust resistant. Although not to quite the same extent, it will easily survive a drop in the sink or on the beach.
In conclusion, the Galaxy S5 is a worthy successor to the S4, improving significantly enough to make the upgrade worthwhile whilst also performing favourably when compared to close competitors (the Sony Xperia Z2 and HTC One (M8)). Price-wise it does tend to be the cheaper of the 3 flagships so certainly a strong contender for your hard-earned cash.