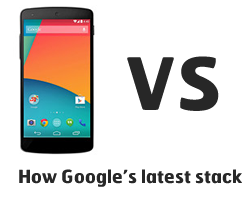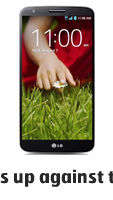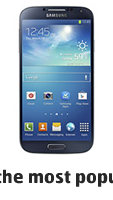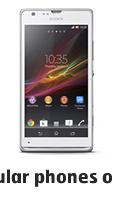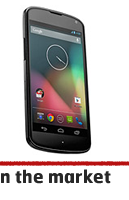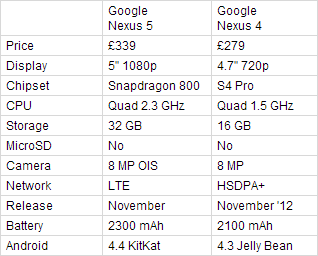 Click the phones above to compare the Nexus 5 to the LG G2, Galaxy S4, Xperia SP and Nexus 4!
Here's a good one to start off our Nexus 5 comparison series – the Nexus 5 versus its now year-old predecessor, the Nexus 4. We know that the Nexus 5 is "one better" – but what does that entail?
Hardware
In terms of hardware, it's quite an upgrade – the Nexus 5 is an even more competitive handset than the Nexus 4 was when it launched in November last year, although it does come at a slightly higher price as well.
The processor is probably the biggest differentiator, moving from a Snapdragon S4 Pro to a Snapdragon 800. We saw a big leap in performance from the S4 Pro to the Snapdragon 600 that released earlier this year, and another noticeable jump to the Snapdragon 800 in the Nexus 5.
There are other hardware changes too – the Nexus 5 now comes with 16 or 32 GB of space (instead of 8 or 16 GB), the screen is now 5″ and 1080p (instead of 4.7″ and 720p), the camera is improved with optical image stabilisation, the battery is slightly larger and LTE is now supported.
Software
In terms of software, the phones are near identical – the Nexus 5 has KitKat first and will retain a few unique features (such as those that rely on the phone's new sensors), but the Nexus 4 will be upgraded to the latest version of Android soon.
Design
The final differentiator is design – the Nexus 5 has a soft touch back that's a big improvement on the slippery glass back of the Nexus 4. While the Nexus 5 isn't as stunning as the iPhone 5S or HTC One, the design is still worthy of respect.
Ecosystem
Both Nexus devices enjoy a strong developer ecosystem, who make an amazing amount of apps, ROMS and other bits and pieces for the phones. The Nexus 5 seems to have a slight edge in the accessories ecosystem though, as we continue to add Nexus 5 cases and other accessories to our virtual shelves.
Overall
A year's worth of hardware improvements, earlier access to KitKat and a more practical design – well worth the extra £20.