The original Google Nexus 7 proved that there was a market for super-affordable Android tablets, and this year's follow-up looks set to continue that success. This time around, makers Asus and Google have worked together to prepare a range of accessories for the tablet, including the subject of this blog post – the Asus Nexus 7 2 Travel Cover.
The Travel Cover is designed to be as thin and stylish as the new Nexus 7 itself. The cover is manufacturer from a light yet durable polymer, ensuring an optimum blend of protection and minimal bulk. The fit is quite tight, but due to the flexible nature of the case it's easy to take the Nexus 7 out if that's ever needed.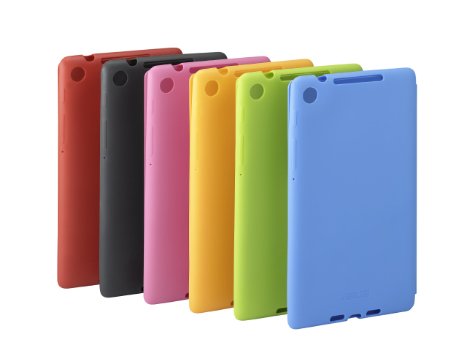 The Travel Cover is also stylish, and comes in a wide range of colours to match any taste. You can choose from dark grey, pink, orange, green and blue. They're all nice shades, and should definitely add a splash of interest and colour to the tablet.
Of course, one thing to note is that these are first-party accessories for the Nexus 7 (2013 model). That means that you'll get uncompromising quality, a perfect fit and cutouts in all of the right places. Asus and Google have proved they can make great and well-suited accessories for their past devices, and it's no different here.
For more information on the Nexus 7 2 Travel Cover, check out the links in the colour of your choice below!
Thanks for reading the article and be sure to let us know what you think of these hot new cases for the Nexus 7 2.