We're happy to announce that we'll soon be stocking a number of new wireless charging accessories, including those that add seamless wireless charging support to the Galaxy S3!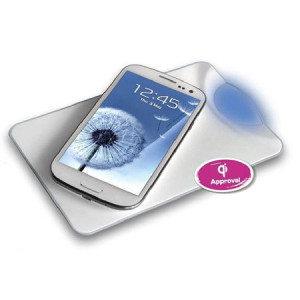 Let's have a look, starting with this Qi Wireless Charging Pad. As the name suggests, it'll charge any compatible phone without wires; just place the phone on the pad at any angle and it'll begin to charge. This also means that your USB port will be free when charging; you'll be able to plug in a USB peripheral and charge at the same time. Of course, the final point in its favour is that it just looks cool. No ugly wires, just a magical charging pad that'll keep your phone charged with the minimum of hassle.
It's compatible with any phone with Qi wireless charging built in, so it will work as a Nokia Lumia 920 charger or Google Nexus 4 charger. It'll also work with those with wireless charging covers, like the Samsung Galaxy S3 (as below) or the Nokia Lumia 820.
Qi Wireless Charging Back Cover for Galaxy S3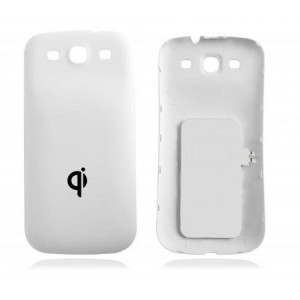 Our next item is specifically for the Galaxy S3; it's a Qi compatible replacement rear cover that allows the Galaxy S3 to be charged wirelessly. It's a seamless way to add wireless charging to the S3 without an external charger – this is definitely the way to go if you've got a Galaxy S3.
Qi Wireless Charging Plate Kit for Galaxy S3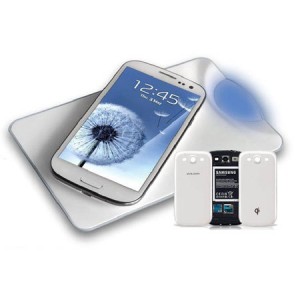 We also have both of these first two items in one set, if you're planning to get both. That means you'll have everything you need to wirelessly charge your Galaxy S3 in one box. It's a heck of an upgrade for any S3 owner, and would make a good Christmas gift for one too!
Qi Micro USB Wireless Charging Clip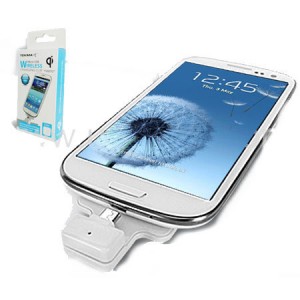 Our last item is for other phones that use micro USB, but don't include wireless charging. It's a wireless charging clip, which adds a wireless charging compatible plate to the back of your phone. It's a little less seamless than the Galaxy S3 replacement rear cover we saw above, but this works with a wider range of devices, including the Samsung Galaxy S2, the Galaxy Note and the Galaxy Note 2.
Conclusion
So there we have it – four new wireless charging options from Mobile Fun. What do you think? Let us know in the comments below! Thanks for reading.