The Beacon Audio Phoenix is a cool portable speaker, a teacup-sized cube that produces incredible sound. It connects to your phone, tablet or MP3 player using Bluetooth, making it easy to pump out the jams without wires. There are easy to reach playback controls on the top of the cube so you can adjust the volume and skip tracks without needing to touch your phone. The Phoenix is a brilliant portable speaker and it's been well recognised by users and critics alike. Let's see what's being said about the Beacon Audio Phoenix!
Engadget wrote about it this summer and titled the review "our new favourite portable speaker." They praised the handsome colour and curved design. Of the sound quality they said that "the Phoenix puts out the best balance of quality and volume we've ever heard in a speaker of this size… almost completely distortion-proof."
Gizmodo had a look at the blue version of the speaker, and awarded it 2nd place in their "best $100 Bluetooth Speaker" review, behind the better sounding but also considerably larger Soundfreaq Sound Kick. They called the Phoenix "freaking adorable" and "impressively powerful", recommending it as the best ultra-portable speaker for $100.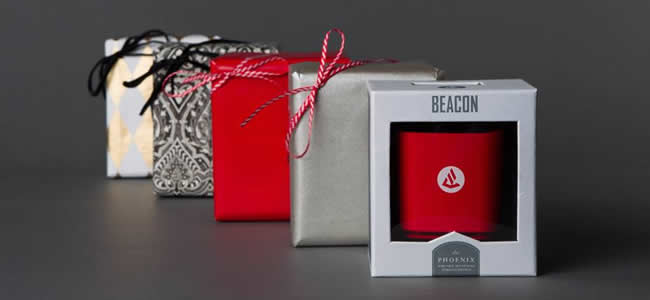 Maxim reviewed the Phoenix and scored it highly for its portability and ease of connection. They did point out that the sound becomes "a bit tinny and tiny" in large open rooms at loud volumes, but "those that expect orchestra-quality sound from a palm-sized speaker are natural born complainers."
Fellow fashionable outfit GQ also reviewed the device, explaining that it sounds as if it were twice the size or more and "syncing is as easy as turning it on."
People recognised the Phoenix as #1 in their Father's Day 2012 coverage, calling it a "small package" with "big surround sound." That's not technically correct (it's only stereo from the two speakers rather than true surround) but it's definitely a hearty recommendation.
Our final review comes from Elektro Daily, who tested the Phoenix in a hotel in Atlantic City. He managed to get the speaker so loud that hotel staff received multiple complaints of "a massive party" happening in his room. When he showed them the tiny speaker that was producing the racket, "they could not believe it… the looks on their faces were priceless." He concluded the review by calling the Phoenix "an absolute must-have."
So there we have it – six reviews, six glowing recommendations. So if you're looking for a stylish portable speaker that packs massive sound into a very small space, check out the Beacon Audio Phoenix on Mobile Fun!
We're currently running a promotion on the Phoenix; we're selling the black version for just £49.99! You can also pick up the red and blue versions at a slightly higher price.
(As always, these prices are correct as of the time of writing, but please check the product pages for the most up-to-date information!)
Thanks for reading, and be sure to let us know what you think in the comments below!