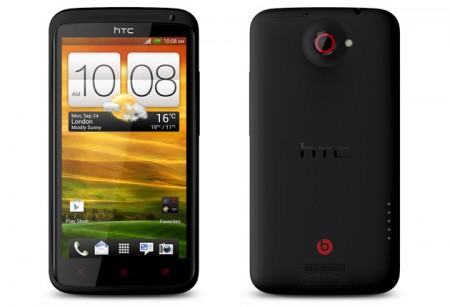 The sim-free HTC One X+ arrives this morning and will ship this afternoon! The latest phone from HTC, the One X+ is an upgrade to the well received One X Android smartphone.
The big difference from the One X to the One X+ is the phone's hardware. The quad-core Tegra 3 processor has been updated from the mid-range variant to the fastest Tegra yet made, running at 1.7 GHz. The internal storage has also been upgraded, moving to a massive 64 GB of flash memory. With a faster battery comes additional power requirements, so HTC have thoughtfully increased the battery capacity to 2,100 mAh.
The phone has also seen multimedia improvements. The front-facing camera on the phone has been upgraded to use the phone's dedicated ImageChip image processor and to use a 1.6 megapixel sensor. That makes for a consistently sharper looking picture from the front. The phone also ups the ante with Beats audio integration. Here, there's a new hardware amplifier for your headphones, allowing your music to be much louder. Of course, Beats also provides the same software equaliser as before, with that S-shaped track deepening bass and crisping vocals.
The new phone is upgraded to the latest version of Android, 4.1, and includes a number of software fixes and additions. Not least of these is Google's Project Butter initiative, which seeks to speed up Android's responsiveness across the OS, making animations more fluid and everything feel faster. The new OS also includes improved notifications and an eerily prescient personal assistant in Google Now, able to take clues from your context and web searches to provide the right answer at just the right time. The Android 4.1 update has been well received on the Galaxy S III and it should be much the same for the One X+, a faster and cleaner version of Android with more features.
All in all, the One X+ is a competitive handset that should definitely appeal to HTC fans and Android enthuasists; the display on the One X+ remains the best in the business and the considerable hardware and software upgrades make this a very mighty phone indeed.
For pricing and availability information, as well as additional photos and specs, check out the product page linked below.
We also have a wide range of HTC One X Plus accessories including car holders, chargers, covers and my favourite, HTC One X Plus cases.
Thanks for reading and be sure to let us know what you think in the comments below. Have a good one!