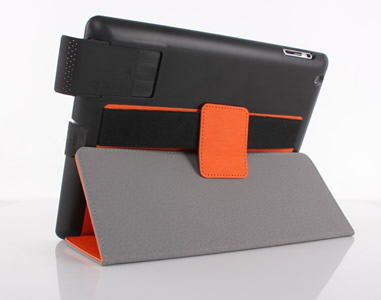 Today we've got an interesting upcoming case design for the iPad which features a plastic scoop which slides out to redirect sound forward. This means sound quality is improved, as the speaker isn't being covered by your hands or whatever you're resting your iPad on. Even if the speaker is uncovered, sound quality is still improved because the speaker is pointing right at you.
The rest of the case looks good too. As you can see, it comes in a bold and contemporary colourway, with blacks, oranges and greys, and it looks like it should provide a good amount of protection to the iPad that sits inside. It includes a smart cover which protects the screen when it's not in use, but then also flips around to the back to serve as a handy stand.
This case will be compatible with the third and fourth generation iPads.
What do you think of the design of this iPad case? Let us know; if we hear some good things we'll definitely try to get it in stock soon!