Edit: While these accessories look cool, it looks like we've been received incorrect information. These cases are not official Nexus 7 cases.
We've all been waiting for official Google Nexus 7 accessories to be released, and it looks like they're now very close to being released. We've received details of five new official accessories built by Asus, including a rotating and non-rotating stand case, a folio case, a keyboard case and a screen protector. Let's have a look at what will be available of these official Nexus 7 accessories.
Official Google Nexus 7 Rotating Stand Case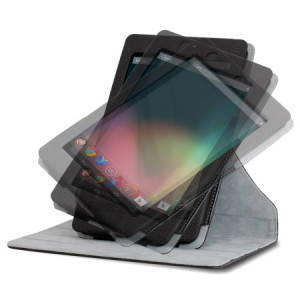 Whether you want to watch a film or play a game in landscape mode or read a newspaper in portrait, this rotating stand case can help. As well as serving as a convenient desk stand, the case also works to protect your Nexus 7 from any damage from scratches or knocks. The case is made of a durable leather effect material for that premium look. Of course, as this is an officially licensed Asus product the case fits the Nexus 7 perfectly with cutouts wherever necessary for the ports, front-facing camera and buttons. The Google Nexus 7 is built as a media device, and that necessitates a good rotating stand like this one.
Official Google Nexus 7 Stand Case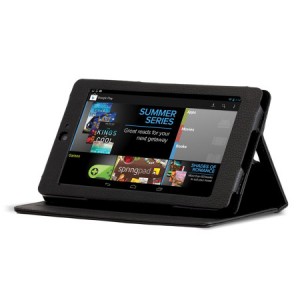 If you don't forsee yourself using your Google Nexus 7 in portrait mode much, then you can save yourself a bit of cash by going for the more inexpensive stand case, which doesn't include the rotating ability but offers the same premium protection and style. The Stand Case is likewise an officially licensed product and such benefits from perfectly placed cutouts and a tight fit.
Official Google Nexus 7 Folio Case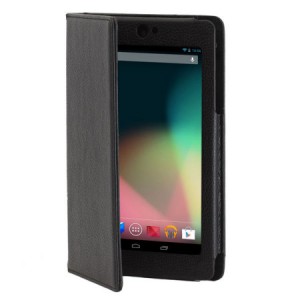 This officially licensed case for the Nexus 7 is in the folio form factor, meaning it opens and closes like a book. It makes use of the Nexus 7's magnetic sensor in order to turn on and off the screen as necessary, meaning you can just shut the cover to lock the screen and save your work. The Folio Case cover can also be flipped to the back side to serve as a handy landscape orientation stand, folding to provide a choice of multiple angles good for typing or watching media. The slim and padded design also includes an integrated wallet for storing important pieces of paper and the like.
Genuine Google Nexus 7 Bluetooth Keyboard Case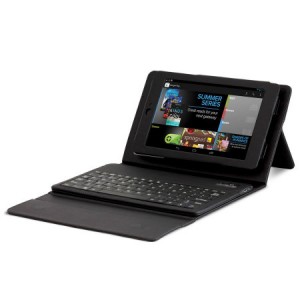 This amazingly slim real leather Nexus 7 case includes an integrated Bluetooth keyboard that's perfect for anyone that writes a lot of emails, documents or articles (like this one!). The full QWERTY keyboard is a comfortable way of getting work done, and it doesn't even increase the bulk of the case substantially. The keyboard is also spill and dust proof and works quietly. The Bluetooth Keyboard Case also includes an integrated desk stand that works well for watching films and playing games as well as working.
Official Google Nexus 7 Screen Protector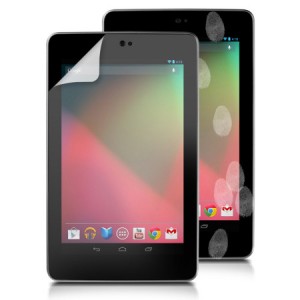 Finally, we've got the first official Google Nexus 7 screen protector. This officially licensed screen protector offers great protection for the Google Nexus 7, preventing scratches from damaging the screen. The screen protector is applied easily and doesn't require a special adhesive glue – it's a full dry mount. The screen protector is oleophobictoo, meaning that it prevents fingerprints from being left on the screen. Of course, as you'd expect from an official Asus product the screen protector is made of high quality optically enhanced film that preserves the excellent contrast and viewing angles of the Nexus 7 screen.
Conclusion
I'm quite excited that we're finally getting closer to seeing these official accessories hit store shelves. We'll be sure to let you know when these new products are in stock. In the meantime, be sure to share any questions or comments below and we'll surely get back to you. Thanks for reading and have a good one!