Hi again,
Hope you had a great Valentines Day on Monday, if you celebrate it!  Personally I mostly celebrate it by glowering all day at any happy couples I see, but that's just me…
Here's my round-up this week:
The Etch-a-Sketch Case for iPhone 4/ Etch-a-Sketch Case for iPad is really cute, for the nostalgic types who love a bit of kitsch.  It's officially licensed to celebrate the 50th anniversary of Etch-a-Sketch (sorry if I just made anyone feel old!) and if you team it with the free Etch-a-Sketch app then you can relive your childhood with a modern twist.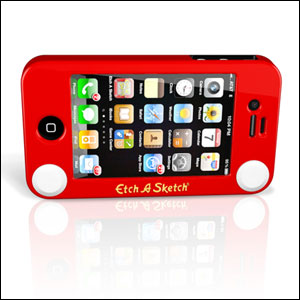 The Otterbox Defender is the toughest Galaxy Tab case ever – well, until someone makes a tougher one!  It's got three different layers of material to absorb shocks and protect against scratches and scrapes, so however bumpy your commute is it'll get you through the day.  We've got a press release for it here.
Speaking of commuters, I'm a bit sceptical about this next one – the Earzee Bluetooth wristband, which basically makes your hand into a phone so that you can go even more "hands-free" than with a Bluetooth headset.  You may look correspondingly even sillier, though! It's a novel idea though, so if you're a journalist and would like a go with one then let me know.
Fandroids will be pleased to know that the SIM free HTC Desire S is available for pre-order, and already generating a lot of attention – not surprising really, given the success of the Desire. It'll be coming into stock very soon.
And here's a funny thing – the iPhone 4 Horn Desk Stand.  It's a bit like the modern equivalent of a gramophone, and acts as a desk stand for your iPhone 4 whilst also amplifying sound from your device with its horn.  Great for watching movies, and available in black and white.
A bit of news from our sister site GamingZap – they're very excited about the Playstation 3 TwistDock which holds and docks your console, as well as charging your controllers, clearing up all of that annoying PS3 mess that gets in the way – and it swivels!
As usual, journalists can drop me a line if they've any enquiries or wish to request a review sample.
Best wishes,
MF Nat