Small smartphone and tablet screens are good on the go, but if you're in your living room then why not use your TV's much bigger screen instead? Sharing your screen from your phone or tablet to your TV is easy, but there are a few different options available. In this article, we'll show you these options and what you'll need for each.The first decision you'll need to make is whether to go wired or wireless. Wired connections are generally more reliable, but may require your device to be close to the TV. Wireless connections can sometimes drop out or stutter, but offer more rapid setup and allow you to move about unimpeded.
Wired
There are three major wired options for Android devices: USB-C to HDMI, MHL and SlimPort. Your phone or tablet is likely to support one or the other; to find out see the list of MHL supported devices and the list of SlimPort supported devices.
HDMI to USB-C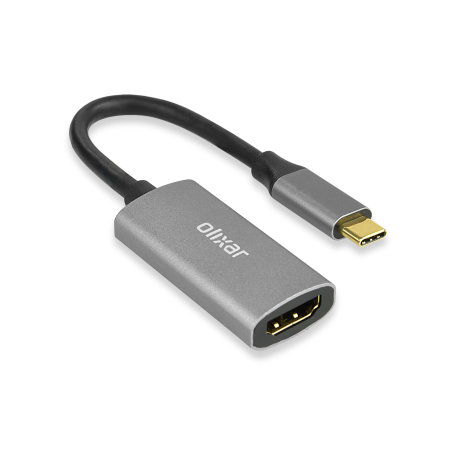 Connecting your USB-C enabled smartphone or tablet to a TV, monitor or projector is extremely quick and easy to do by using this adapter from Olixar. Additionally, unlike other adapters on the market, this Olixar USB-C to HDMI does not require a power source, making connection even easier, as shown in the video below.
Plug in the USB-C end of the adapter into your smartphone or tablet
Connect a HDMI cable into the adapter
If you've not done so already, plug the other end of the HDMI cable into a HDMI port on your TV or monitor. HDMI ports are typically found at the rear of TV's, monitors and projectors.
Navigate to the HDMI source on your TV / Monitor
Sit back and enjoy content including videos, photos, games and more from your phone or tablet on the big screen.
Additionally, the Olixar Samsung Galaxy S21 Ultra USB-C to HDMI Adapter has a number of useful features including supporting both 1080p and 4K resolution at 60Hz, meaning you can watch videos with crystal clear clarity.
MHL
MHL was one the first major wired standard for connecting Android smartphones and tablets to TVs, and is supported by many Android phones and tablets (list here). It uses a clever system that allows both power and audio/video to be sent through your device's micro USB port.
TVs, monitors and projectors that support the standard (list here) have at least one special HDMI port which also provides power; all you need to do is pick up a micro USB to HDMI (passive MHL) cable and plug it in.

You can still use MHL even if your TV doesn't support the standard with an MHL cable or adapter which has separate HDMI and microUSB ports. The HDMI end goes into the TV as normal, and a microUSB cable is attached to a USB port or AC adapter.
Samsung devices have their own proprietary MHL adapters ("MHL 2.0") which you'll need to use instead. It's also possible to find these built into docks for Samsung phones or connection kits with additional ports.
There's more information about MHL and how to use it here.
SlimPort
SlimPort is another wired option, which is similar to MHL. The major difference is that a power input is optional. If no power is supplied, your device won't be recharged, but the HDMI link will still work. SlimPort is supported by some recent smartphones, tablets and laptops (list here), most notably LG and Google devices.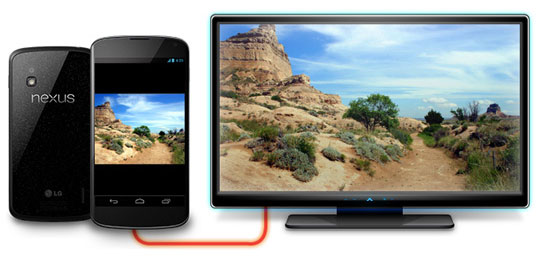 To use SlimPort, you'll need a SlimPort HDMI adapter. The microUSB plug goes into your phone, the USB plug goes into a powered USB port or wall adapter, and an HDMI cable connects adapter and TV.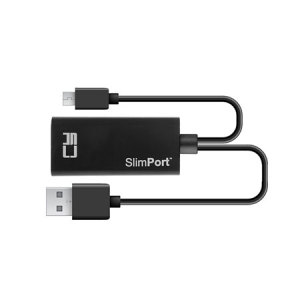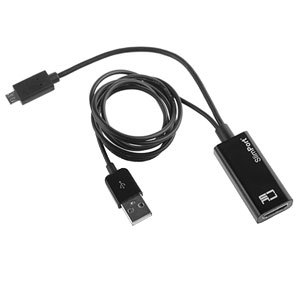 There's more information on SlimPort here.
Wireless
There are several wireless standards to choose from, all of which seem to have 'cast' in their name. Let's look at the best three.
Android Screen Mirroring
This is a great way for those with a recent Android device and a smart tv. Simply swipe down from the top and into your notifications panel. Within there you should find a screen mirroring option, which on Samsung devices is called Smart View. Select the TV or monitor you wish to mirror your phone to and you'll be good to go.
If you don't have this feature available, screen mirroring can still be available by downloading the Google Home app. Once downloaded, tap account button at the bottom right corner and scroll down to mirror device, then simply select your TV or monitor.
Chromecast
The Chromecast is one of the least expensive wireless options for connecting your Android phone or tablet to your non-smartTV.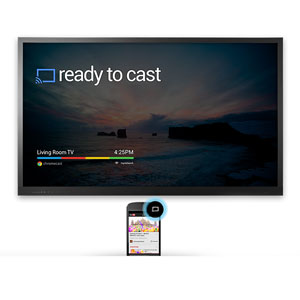 Instead of mirroring your entire screen, you instead send specific content from apps on your phone – YouTube videos, Google Music songs, BBC iPlayer shows, Netflix movies – to the Chromecast dongle. It retrieves the content online using its wireless connection and plays it back through your TV.
There's more information about Chromecast here.
Miracast
Miracast support is included in Android 4.2 Jelly Bean and later. It works by making a direct wireless connection between your device and your TV. Once the connection is made, your phone's screen is mirrored on your TV.
Many modern HDTVs have Miracast support built in. The easiest way to see if your TV is supported is to Google your TV's model name + "Miracast".
If your TV isn't supported, you can also pick up a Miracast dongle that'll add the necessary capabilities. Just plug it into a power source and an HDMI port, and you'll be ready to begin.
You can enable Miracast in Settings -> Display. From here, select Wireless display and toggle it 'on' at the top. Then you can search for Miracast devices and connect to them. Note that this procedure may be slightly different depending on your phone's Android version and manufacturer.
You can find more information on Miracast here.
AllShare Cast
AllShare Cast is a wireless mirroring standard for Samsung smartphones and tablets (including the Note 2 + 3, Galaxy S3, S4 + S5). The feature is built into some recent Samsung HDTVs, but for other TVs you'll need the AllShare Cast Hub.
Like other HDMI dongles, you'll just need to connect the AllShare Cast Hub to your TV via HDMI and power it with the supplied cable, then enable the AllShare Cast option on your Samsung device in Settings -> Wireless and networks -> AllShare Cast.
There's more information on AllShare Cast here.
Note that it's possible to use the more widely supported Miracast on Samsung devices running at least Android 4.2, from the Galaxy S4 and Note 3 onwards.
Questions?
Let us know in the comments below, or reach us on Twitter @mobilefun. We'll be happy to answer any questions we can, so if there's something we haven't covered here then please let us know.
Thanks for reading the article and have a good one!