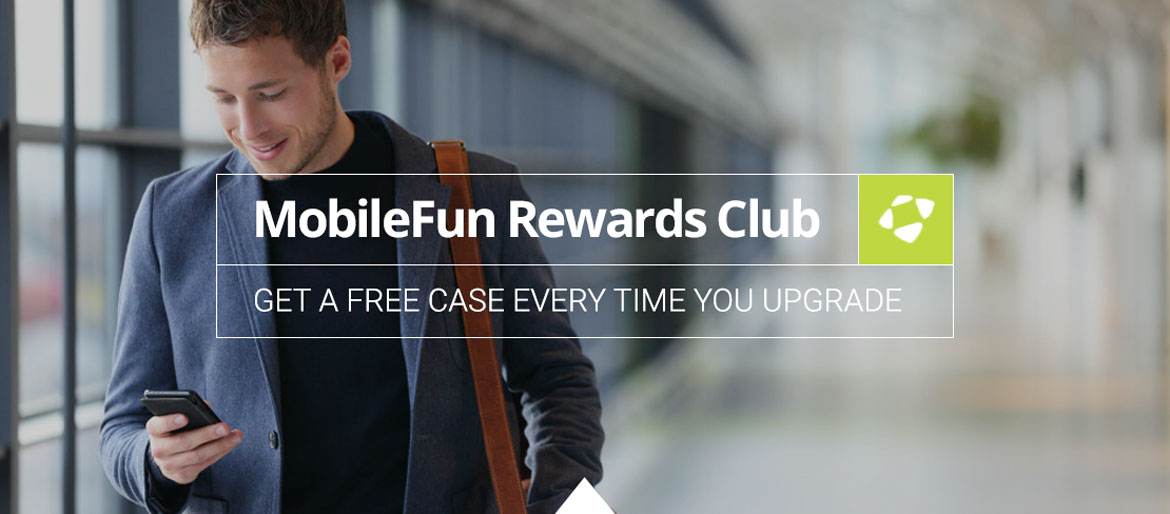 Rewards Club Terms and Conditions
The Rewards Club is Mobile Fun ltd.'s members' club (the Club). It comprises a range of preferential benefits and offers to its members.
Eligibility
You must be 18 years of age or over and a UK resident for the entire period for which you are a member. The 'Free Case for Life' scheme is currently only available to iPhone 7 and iPhone 7 Plus users. No corporate or business use or membership. Please note that staff may be excluded from certain events, prize draws and experiences. See individual terms and conditions for more information and qualification.
Activation and Registration
Your Club membership is not transferable once activated. Activate your membership at mobilefun.co.uk/blog/lets-get-started/. You will need to provide a valid email and postal address to register. Without a valid email address, you will not receive all the regular offers and benefits associated with the Club. It is your responsibility to ensure that all your personal details are kept up to date and Mobile Fun will not be responsible for any lost, delayed or undeliverable communications if you do not do so.
Rewards and benefits
As a member you will benefit from offers and promotions personalised for you. Inclusions and exclusions will apply and may change. Timing and value of all benefits at the discretion of Mobile Fun. Qualification for entry and prize awards subject to individual prize draw terms and conditions.
Following the receipt of your first free "Case for Life" you will need to notify Mobile Fun via email when you subsequently upgrade to a new device, in order to receive your next free phone case. You are eligible for one free phone case every 12 months. Free phone cases are subject to availability. The Mobile Fun Crystal C1 free case range is not available for resale. One free case available per household.
Termination
You can terminate your Club membership by unsubscribing to the Club newsletter. On termination any and all benefits accrued will be lost. We can terminate your Club membership immediately if at any time, you are, or we reasonably suspect you may be, acting fraudulently or in breach of these terms. If your membership has been inactive for 12 months we will review it and in our discretion choose to suspend your account. Users trying to order multiple cases will have their membership terminated.
Making changes to the Club
We can make changes to the eligibility requirements, the benefits and the terms of the Club at any time if we believe the change is to your advantage or, in our reasonable discretion, is required for the continuing administration of the Club. Material changes will be communicated to you via email or postal communication. We reserve the right to withdraw or cancel the Club at any time giving members seven days' notice of termination in writing (via email or postal communications). These terms correct as of August 2016. Current terms are available at mobilefun.co.uk, which prevail in the case of any difference with these printed terms.
Contacting us
If you have any questions about the Club, then please go online at mobilefun.co.uk, or write to us at Case For Life Enquiries, Mobile Fun Limited, Unit 16 Network Park, Duddeston Mill Road, Birmingham, B8 1AU, United Kingdom
Your information
Your personal information obtained by us in connection with the Club will be used in accordance with data protection legislation and our Privacy Policy (available at mobilefun.co.uk). In particular, it will be used to administer the Club, provide you with benefits and to keep you updated including by post, email and text messaging. By joining the Club, you agree to receive post, email and SMS updates from us about the Club and your benefits. You will not be able to opt out of receiving email updates unless you terminate your Club membership.
Governing Law
The laws of England and Wales apply to these terms and our dealings with you in connection with the Club. The terms are in English and any communications we send to you will be in English.
Your Statutory Rights
Nothing in these terms will affect or reduce your statutory rights. Please call 0844 249 5060 if you would like to receive these terms and any applicable quarterly statements in an alternative format such as large print, Braille or audio. Calls may be recorded for security, training and monitoring purposes.